Apple's OS X 10.9.3 Update Will Support Retina Resolution for 4K Displays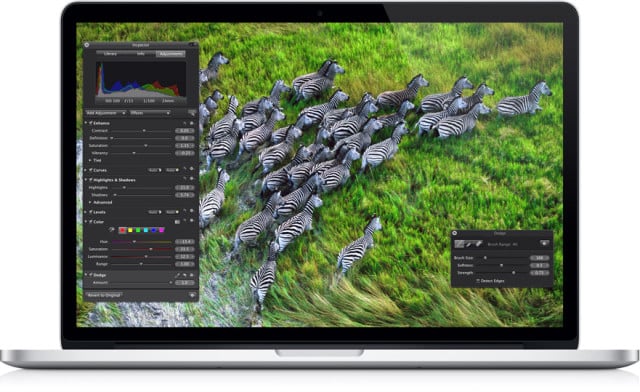 An upcoming OS X Mavericks 10.9.3 update will soon allow Apple's (NASDAQ:AAPL) Mac users to run 4K displays at full Retina resolution, Apple Insider reports. The enhanced display option will be available over HDMI and possibly Thunderbolt display output ports. The "pixel-doubled" display resolution will allow content that is displayed on 4K monitors to appear as sharp as it looks on the late-2013 MacBook Pro's native Retina display screen. As noted by 9to5Mac, users that attached an external 4K monitor to their Mac's running OS X 10.9.2 would only see content displayed on a larger scale with display elements spread out.
The scaling display enhancement was spotted in Apple's beta version of the upcoming OS X 10.9.3 update by developers. Besides the "pixel-doubled" display resolution for Macs, the latest OS X update will also boost the Retina MacBook Pro's connected 4K display refresh rate to 60Hz.
According to Apple insider, OS X 10.9.2 only outputs to a 4K display at 24Hz or 30Hz. The current refresh rate limit of 30Hz makes some animations appear "choppy." Per Apple's 4K display support page, the highest output resolution previously available for the late-2013 MacBook Pro and late-2013 Mac Pro was a 4096 x 2160 pixel display output at a 24Hz refresh rate. However, this display setting would spread out display elements. Mac users also had the option to output to an external monitor at 3840 x 2160 pixels with a 30 Hz refresh rate. Neither setting was close to the native display resolution.
Although Apple's Mac Pro already supports 60Hz display output via MST (multi-stream) mode, 9to5Mac noted that the OS X 10.9.3 update will make the setup of 60Hz display output more intuitive and user-friendly. Apple's upcoming OS X support for running 4K monitors at 60Hz and the improved scaling options for MacBook Pro users with 4K displays may signal that the California-based company is gearing up to release its own 4K monitor. It should be noted that Apple's 4K display enhancement options were not mentioned in the OS X 10.9.3 update's accompanying beta release notes.
According to sources cited by 9to5Mac, Apple has long been working on a large, high-resolution display. Per Apple's Thunderbolt Display page, the company's own monitor currently only has a 2560 x 1440 pixel display, which is lower than the 4K resolution that the new OS X 10.9.3 update is capable of supporting.
More From Wall St. Cheat Sheet:
Follow Nathanael on Twitter @ArnoldEtan_WSCS