Apple's OS X Mavericks Sets This New Record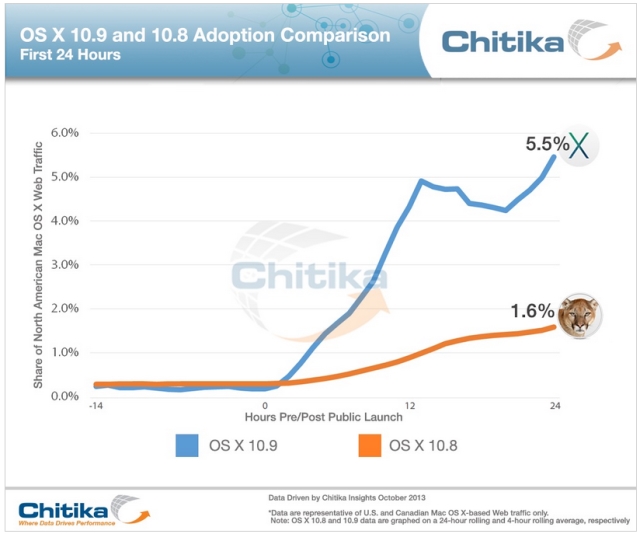 Apple's (NASDAQ:AAPL) latest desktop operating system is being adopted by users at a record-breaking pace according to recently released data from online ad network company Chitika. User adoption of OS X Mavericks in the U.S. and Canadian markets reached 5.5 percent within the first 24 hours after the software's release, beating OS X Mountain Lion's adoption rate of 1.6 percent last year. Chitika derived its data from millions of Mac OS X-based online ad impressions in its network.
As noted by Chitika, OS X Mountain Lion took around four days to reach the same level of adoption that Mavericks has reached in just 24 hours. However, unlike OS X Mountain Lion, OS X Mavericks is being offered at no cost to the consumer which is likely helping to boost its adoption rate.
"We want every Mac user to experience the latest features, the most advanced technologies, and the strongest security," noted Apple senior vice president of Software Engineering Craig Federighi. "We believe the best way to do this is to begin a new era of personal computing software where OS upgrades are free."
On the other hand, OS X Mountain Lion had a relatively low price of $19.99, which suggests that users may simply be excited about the new features offered in Apple's latest desktop operating system. According to Apple, OS X Mavericks includes over 200 new features, including iBooks, Maps, enhanced multi-display support, and a new version of Safari. OS X Mavericks also includes intelligent energy-saving technologies that extend battery life as well as improve the overall performance of Macs.
Some industry watchers have noted that Apple's "free" software giveaway is a clever sales ploy that will likely draw more consumers into the Apple ecosystem. The addition of free software also gives Apple another reason to charge a premium price for its relatively expensive hardware.
In this sense, Apple is choosing to take a loss on its software in order to drive sales of its laptop and desktop computers. Based on the rapid OS X Mavericks adoption rate documented by Chitika, it would appear that Apple's strategy is off to a good start.
Here's how Apple has traded over the past five trading sessions.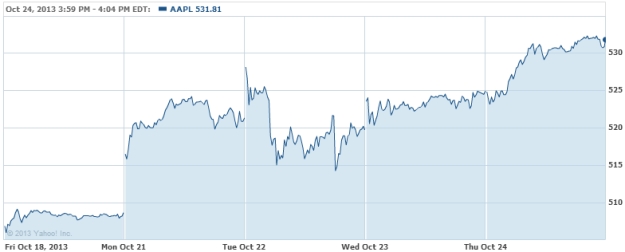 Follow Nathanael on Twitter (@ArnoldEtan_WSCS)
Don't Miss: Could This Invention Give Apple a 'Kid-Friendly' Marketing Edge?