Apple's Pre-Earnings Forecast, Google's Mystery Barge, and 3 More Hot Stocks
Apple Inc. (NASDAQ:AAPL): Apple is expected to report higher average selling prices and more shipments for the iPhone but fewer for the iPad in the September quarter when it releases its earnings on Monday after the bell, as analysts with Stifel are anticipating revenue to fall at $36.5 billion, and whilst earnings per share should fall at $7.89 for the period. However, Wall Street consensus estimates peg revenue at $36.8 billion and earnings of $7.87 per share.

Google Inc. (NASDAQ:GOOG): CNET and a CBS affiliate are both reporting that Google is reportedly working on a four-story structure mounted on a barge in San Francisco Bay. The former alleges that the new construct is a floating data center, pointing to a 2009 patent for a "water-based data center" that features crane-removable containers, which relies on seawater for power and cooling. KPIX 5, though, reports that the structure will be a "floating marketing center" meant to promote Google Glass.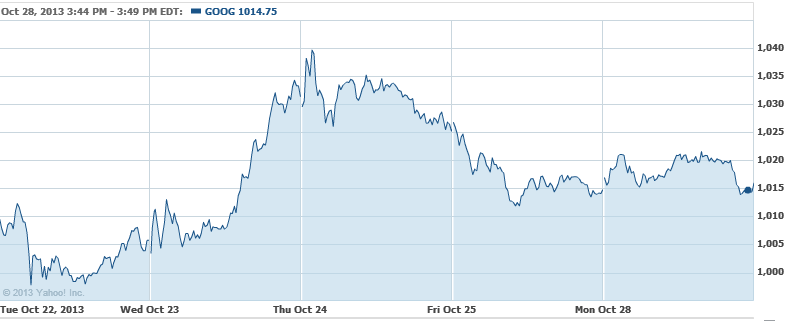 Statoil ASA (NYSE:STO): Statoil has announced its plans to build a new platform at the Snorre field in the North Sea,  which is reportedly good for another 300 million barrels of oil and should extend the project's lifetime to 2040. However, the 40 billion crown ($6.79 billion) project has been in doubt since the government ruled in favor of increasing Statoil's taxes, though the company has managed to increase recoverable reserves.
Petróleo Brasileiro S.A. (NYSE:PBR): Petrobras shares are up over 8 percent, despite recording an estimates miss late last week, which saw earnings fall 39 percent year-over-year, largely due to rising exploration and administrative costs, and surging spending as fuel subsidies and weak production growth dented revenue. On a brighter note, oil and gas production rose 4.2 percent year-over-year in September, its first monthly production increase since June.

IMAX Corp. (NASDAQ:IMAX): IMAX has announced that it has purchased a position in content distributor Prima Cinema, which specializes in encrypting current releases for home viewing options. "IMAX plans to integrate the PRIMA Cinema technology into the IMAX Private Theatre and other potential platforms, enhancing the image and sound of the content through its digital re-mastering (IMAX DMR) process, which enables IMAX customers to access current theatrical releases of the highest possible quality," the company said in its release.

Don't Miss: Two-Thirds of Retina iPad Mini Demand May Be Unmet.