Apple's Retina iPad Mini Lags Other Tablets in Color Coverage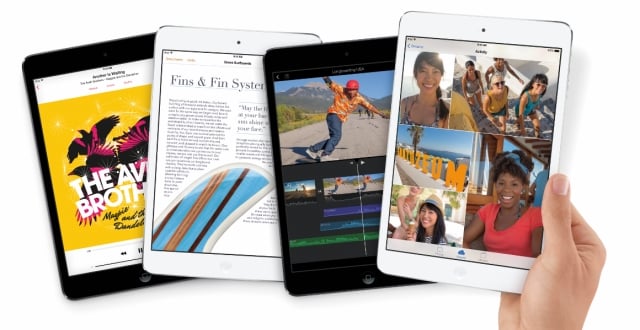 Apple's (NASDAQ:AAPL) recently released iPad mini model comes equipped with a Retina display that packs all of the pixels found in the 9.7-inch display model into a 7.9-inch screen. This gives the Retina iPad mini display an amazing 326 pixels per inch, equal to the smaller display of the flagship iPhone 5S. Although the new iPad mini with Retina display shares the iPad Air's 2048 x 1536 display resolution, recently conducted tests have revealed that the latest iteration of Apple's compact tablet still lags behind the full size tablet in its color range capabilities, reports Apple Insider.
According to color gamut tests conducted by Anand Lal Shimpi at Anadtech, the new iPad mini with Retina display has the same limited color range that was found on the original iPad mini model. Shimpi put the Retina iPad mini through several tests that are designed to measure a display's color gamut. As explained by Apple Insider, a color gamut test essentially measures the number of color subsets that a display can reproduce within a standard range.
Although Shimpi found that the Retina iPad mini display was "fairly accurate" within its gamut coverage, it is noticeably less accurate than the iPad Air. According to Shimpi, the "biggest deviations" were found in the red/blue and magenta colors.
As noted by Apple Insider, the ability of a display to accurately reproduce a color is quantified with the "Delta-E" measurement. The more accurately a display is able to reproduce a color, the lower its Delta-E number will be. Apple's iPad Air display has a very low Delta-E rating of 2.42. Similarly, Google's (NASDAQ:GOOG) Nexus 7 has a rating of 3.34. However, the Retina iPad mini's limited color coverage gives it a rating of 6.52. This is only slightly better than the original iPad mini's Delta-E rating of 7.87.
"The biggest issue here is that there are other smaller tablets in this price range that do offer sRGB [standard color space] coverage (e.g. Nexus 7, Kindle Fire HDX 8.9)," noted Shimpi. On the other hand, it is not clear how important these small color differences would be for users who are not working in professional fields that require a high level of color accuracy, such as photographers or filmmakers. Users in those professions would also be more likely to opt for the iPad Air's larger 9.7-inch screen size.
Besides testing the color accuracy of the iPad mini with Retina display, Shimpi also tested the device for image retention. Unnamed industry sources recently cited by Korea's ETNews reported that both LG Display (NYSE:LPL) and Sharp were encountering a "burn-in" problem with the Retina iPad mini's LCD display panel. However, Shimpi found no image retention problems on the two Retina iPad minis that he owns.
Follow Nathanael on Twitter (@ArnoldEtan_WSCS)
Don't Miss: Few Buyers at Historic Apple Computer Auction.