Apple's Retina Problems, Elop's Ideas for Microsoft, and 3 More Hot Stocks
Apple Inc. (NASDAQ:AAPL): Speculation suggests that issues relating to burn-in on Sharp-made LCD panels are holding up the iPad mini with Retina display, which in turn has spurred Apple to seek help from its friendly foe, Samsung Electronics (SSNLF.PK). Sources reportedly told a Korean publication that Sharp was experiencing difficulties with its advanced IGZO display technology, ultimately resulting in low yield rates for Retina panels that were slated for the iPad mini, Apple Insider reports.

Microsoft Corp. (NASDAQ:MSFT): Former Nokia CEO Stephen Elop, should he become the new CEO of Microsoft (he is on the shortlist), would consider taking an axe to the Xbox and Bing divisions, sources told Bloomberg. In an even further diversion from Microsoft's usual tactics, Elop would contemplate making the Office software suite — Word, Excel, and PowerPoint — available in a format for a variety of smartphones and tablets, including those made by Apple and Google.

Boeing Co. (NYSE:BA): Boeing has said that it might still pull the production of 777X components from the Seattle area should workers reject a proposed labor contract that is slated to be voted on next week. At stake is potentially thousands of jobs for the region, which Boeing may migrate to more business-friendly climates — like the South — if its contract isn't ratified.

Covidien PLC (NYSE:COV): Shares of Covidien are down, even as earnings per share of 91 cents beat by 1 cent and revenue of $2.56 billion fell in line with expectations. Excluding currency impacts, revenue grew 5 percent; medical device sales gained 3 percent on a reported basis, to $2.13 billion, helped along by growth in new products and higher volume overall. Medical supplies sales fell just under 2012′s fourth quarter, to $434 million.

Telefonica S.A. (NYSE:TEF): Although Telefonica's net profits dropped 21 percent to 1.09 billion euros ($1.46 billion), it still slightly beat out expectations, as revenue declined 10 percent to 14.1 billion euros. Currency fluctuations had a profound effect on Telefonica's results, as sales in Latin America swelled 11 percent in local currencies but fell 6.8 percent when converted to euros. Revenue from fixed and mobile lines in its native Spain slid 8.8 percent, although operating margins increased substantially.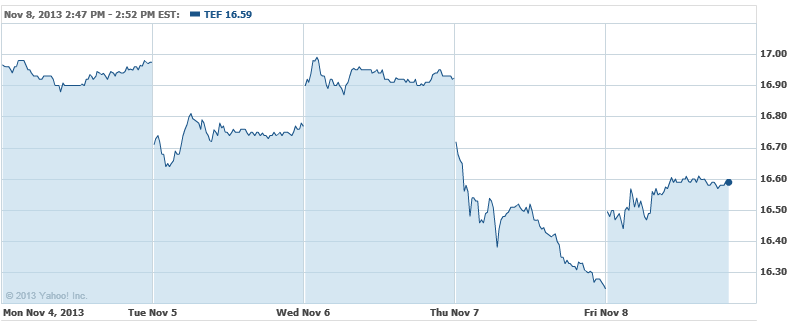 Don't Miss: Rumor: Apple Store Repair Service for New iPhones Coming Soon.