Apple's Russian Partner Under Antitrust Scrutiny and 2 Other Hot Stocks to Watch
Apple Inc. (NASDAQ:AAPL): Current price $454.94
The handset retail giant Svyaznoy, Apple's number-one partner in Russia, is under antitrust scrutiny after its competitor Euroset filed a complaint with the country's Federal Antimonopoly Service. Apple has had to depend on Svyaznoy almost exclusively to sell iPhones in Russia since that country's last major carrier dropped its wholesale contracts with Apple in July in a dispute regarding subsidies and marketing costs.
Analyst projections indicate that Svayznoy's share of iPhone sales could jump to nearly 70 percent by September. The regulator can order companies to break a contract if it determines that it leads to the control of over 20 percent of a market.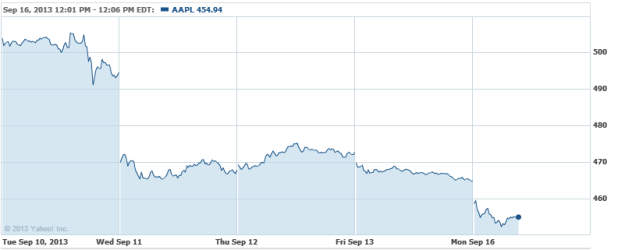 Citigroup Inc. (NYSE:C): Current price $51.14
In a presentation on its website, Citigroup said that it could incur $21.2 billion of losses over nine quarters through mid-2015 and still remain above minimum regulatory capital levels in a severe financial downturn. Moreover, the bank's Tier 1 common capital ratio would drop to as low as 9.1 percent under a severely adverse scenario, but be above the 5 percent minimum set by United States regulators.
Citigroup's projections arise from a stress test required by the 2010 Dodd-Frank Act. The largest domestic banks, such as JPMorgan Chase & Co. and Bank of America Corp., must run the so-called mid-cycle stress tests, utilizing their own scenarios, and then release a summary of the results.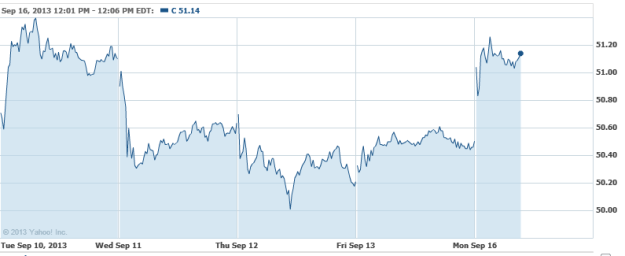 Alcatel-Lucent (NYSE:ALU): Current price $3.41
Alcatel-Lucent and the national telecom provider Corporacion Nacional de Telecomunicaciones have jointly installed Ecuador's first 4G LTE high-speed mobile broadband networks. This new high-speed ultra broadband connectivity will be offered in Ecuador's major cities like Cuenca, Guayaquil, Machala, and Loja. Aside from this, the newly improved service will also be supplied to the important cities of Ecuador´s Pacific Coast and Southern area without disruption to the current 2G and 3G services.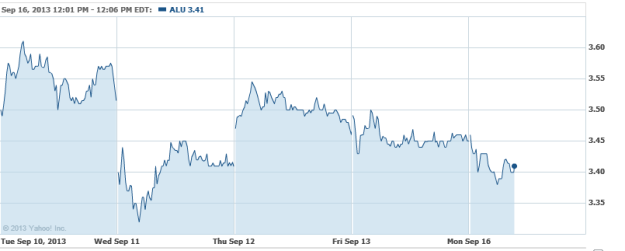 Don't Miss: Will This Apple Supplier's IPO Fund New Display Tech?