Apple's September iPhone Split, Chevron Goes to Court, and 3 More Hot Stocks
Apple Inc. (NASDAQ:AAPL): AllThingsD is reporting that for the month of September, Apple's iPhone 5S accounted for 64 percent of new iPhone sales, outselling the cheaper 5C by a factor of two, citing a report by Consumer Intelligence Research Partners. However, CIRP founder Josh Lowitz noted that after the early adoption surge, "the lower-priced phones have tended to gain share versus the flagship phone, after the initial rush of dedicated upgraders to the newest device." Lowitz expects the 5C to make up some share gains in the coming months.
Chevron Corp. (NYSE:CVX): A trial will soon begin in which Chevron will try to convince a U.S. judge that a group of Ecuadorean villagers and its U.S. lawyer, Steven Donzinger, used bribery to win an $18 billion judgment against Chevron from a court in Ecuador. The case is by no means new; the core of the suit stems from a dispute over environmental contamination between 1964 and 1992 at an oil field in northeastern Ecuador, operated by Texaco, which Chevron bought in 2001, according to Reuters. 

Costco Wholesale (NASDAQ:COST): Costco has initiated a recall for some of its Kirkland Signature brand Organic Lean Ground Beef in its Canadian stores due to possible E. coli contamination. Food Safety News says that according to the Canadian Food Inspection Agency, there have been no reported illnesses associated with the consumption of the ground beef; Costco is voluntarily recalling the affected product from shelves.

 Telefonica S.A. (NYSE:TEF): Telefonica is reportedly gearing up for the sale of its Czech unit, worth an estimated $3.6 billion, to raise cash for further industry consolidation, sources told Bloomberg. Major carriers such as Deutsche Telekom AG and Vodafone Group are unlikely going to receive regulatory clearance, opening the doors for private equity firms to place bids on Telefonica's 69 percent stake in the venture.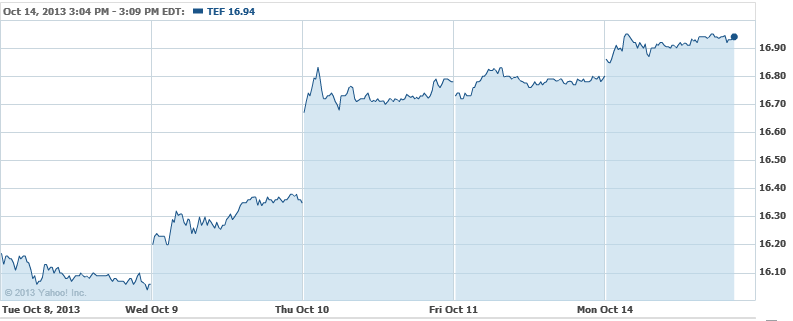 Barnes & Noble (NYSE:BKS): While Barnes & Noble's announcement of a new location in El Paso, Texas, may not be headline-worthy news, the company will reportedly be stocking more items from Starbucks as well as desserts from The Cheesecake Factory in its cafe. Seeking Alpha notes that while the chain has opened more cafe space, sales have dropped on the verge of a tough comparable coming up.

Don't Miss: Is China's Gold iPhone 5S Shortage Finally Over?