Apple's Shot at Microsoft, Broadcom Slide Continues, and 3 More Hot Stocks
Apple Inc. (NASDAQ:AAPL): One of the standout surprises at Apple's iPad debut event on Tuesday was the announcement that the company would be offering its new computer OS, Mavericks, for free to existing Mac users. This action fires a warning shot over the bow at Microsoft (NASDAQ:MSFT),  which has historically charged for such upgrades. "The challenge for Microsoft will be convincing customers that it's reasonable to keep asking them to pay for such things in a world where Apple gives them away," Forbes says.

Broadcom Corp. (NASDAQ:BRCM): Shares of Broadcom are plunging over 8 percent in the wake of Tuesday's earnings report, which despite showing beats for both earnings and revenue,  brought with it softer-than-expected guidance for the fourth quarter. Investment firm Wedbush has cut its rating on the chip maker to Neutral as Broadcom also revealed that it would be axing some 1,150 jobs, and will be recording $32 million in restructuring costs this year.

New York Times Co. (NYSE:NYT): New York Times' sale of the Boston Globe and Worcester Telegram & Gazette has been put on hold by a Massachusetts judge as it could potentially complicate a pending class action lawsuit, court documents have said. Boston Red Sox owner John Henry, who is supposedly shelling out $70 million for the two papers, was supposed to sign off on the deal on Friday. The deal will remain blocked "unless the parent company, New York Times Company" agrees to become a defendant in the class action suit against the Telegram & Gazette and sets aside at least $60 million to cover potential liability, Reuters says.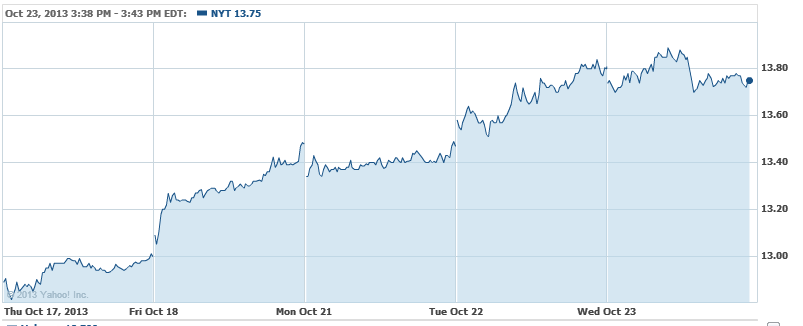 Safeway Inc. (NYSE:SWY): Safeway shares are up over 7 percent as Reuters reports that private equity firms are speculatively looking into the grocer as a potential buyout target. Safeway — and its market value of $8 billion — has generated the interest of Cerberus Capital Management, among others. Jana Capital revealed a stake in Safeway last month, and at the time held talks with Safeway's management about reviewing its strategic alternatives.

British Petroleum (NYSE:BP): The UK's energy ministry has given BP and the Iranian Oil Co. clearance to resume production at the Rhum gas field in the North Sea as output at the facility has been shut down for three years due to EU sanctions on Iranian companies. The government deemed the continuation of production necessary, to avoid potential environmental damage and value destruction from the prolonged downtime.

Don't Miss: Apple Impresses Analysts with Tuesday's iPad Event.