Apple's Siri Gets a C+ on Her Report Card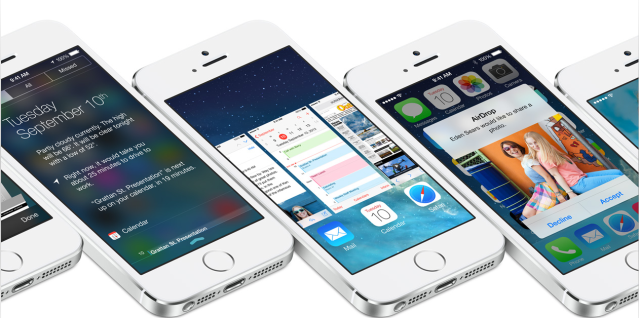 Apple (NASDAQ:AAPL) made some significant improvements to its natural language processing software with the iOS 7 update, and Piper Jaffray analyst Gene Munster has raised Siri's grade from a C to a C+ after testing her with 800 queries.
Munster noted that Apple's Siri is now tied with Google's (NASDAQ:GOOG) competing Google Now, as both speech recognition services recognized 79 percent of the questions asked, according to a research note seen by Wall St. Cheat Sheet. The biggest change to Siri has been the elimination of Google in its results, as Siri has switched to relying on Microsoft (NASDAQ:MSFT) search engine Bing, WolframAlpha, and Wikipedia for answers. Siri previously relied on Google for 27 percent of answers but now only uses its arch rival for 4 percent of search answers.
Munster said the main area of improvement for Siri since iOS 6 was her ability to understand speech in noisy environments. Siri understood 94 percent of queries made in a noisy area in the most recent test, versus 83 percent in the test performed in August 2012.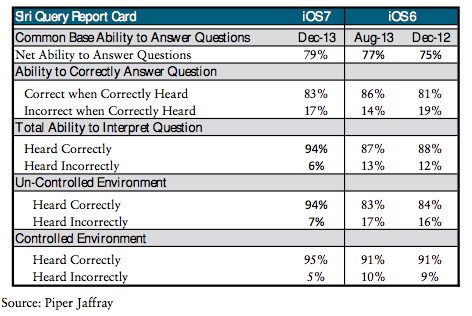 Apple's Siri already has a contentious relationship with Google's voice command services. When Siri is prompted with the comment "OK, Glass," which is used to call Google Glass into action, she has a series of caustic responses to being confused with Glass. Some of Siri's six responses to "OK, Glass" include: "I think that Glass is half empty"; "Just so you know, I don't do anything when you blink at me"; and "Stop trying to strap me to your forehead. It won't work."
Google Now has become a serious competitor to Siri, and the two services are neck-in-neck, correctly answering 79 percent of the total questions asked. Munster noted that Google's service has improved relative to Siri in every aspect except navigation in the past year.
Follow Jacqueline on Twitter @Jacqui_WSCS
Don't Miss: Apple's iPhone 5S and 5C Gain Two New Contract-Free Carriers.