Apple's Smartphone Share Declines, JPMorgan's Chinese Debacle, and 3 More Hot Stocks
Apple Inc. (NASDAQ:AAPL): Samsung was able to put more distance between itself and Apple during the third quarter, as Gartner now projects that Samsung sold 80.36 million smartphones during the period against 55 million a year earlier and Apple's 30.33 million against 24.62 million a year earlier. Samsung's market share stayed flat at 32.1 percent, though Apple's fell to 12.1 percent from 14.3 percent, Gartner estimates.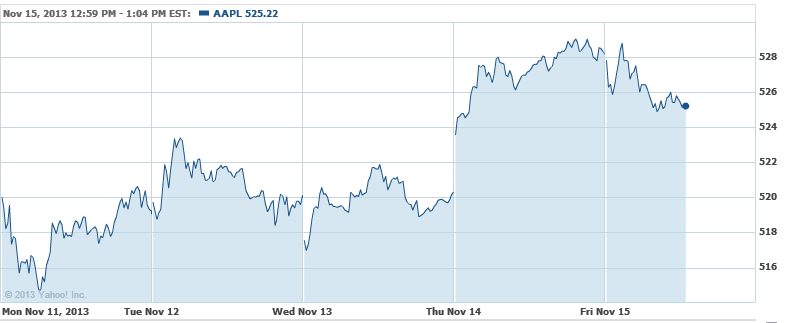 JPMorgan Chase & Co. (NYSE:JPM): The New York Times reports that JPMorgan executives based in Hong Kong hired a small consulting firm that belongs to the daughter of former Chinese Prime Minister Wen Jiabao, which was presumably to ensure smooth sailing for the bank's operations in the country. The U.S. Securities and Exchange Commission is currently probing JPMorgan to find out if the actions violate the Foreign Corrupt Practices Act.

Herbalife Ltd. (NYSE:HLF): Herbalife shares are up in the wake of a piece by the New York Post that points to a new clause in distributor agreements that precludes trials by jury and class action lawsuits. "You agree that, by entering into this agreement, you and [Herbalife] are each waiving the right to a trial by jury … Class actions shall not be permitted," the clause says. Arbitration would replace litigation as a means to settle legal disputes.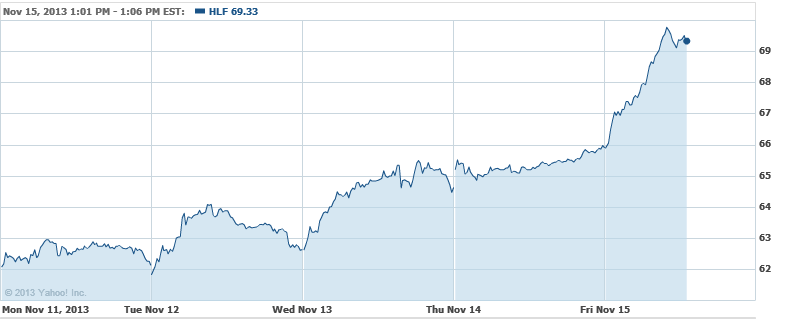 International Business Machines Corp. (NYSE:IBM): IBM is offering 750 million pounds' worth of notes due in December 2020 with an interest rate of just 2.75 percent. Seeking Alpha points out that the company, having just added $15 billion to its buyback program, will likely use some of the funds to finance additional stock repurchases, which have been crucial to keeping earnings per share growth positive in the face of declining revenue, the site says.

Arena Pharmaceuticals (NASDAQ:ARNA): Shares of Arena Pharmaceuticals are up nearly 10 percent as investment firm WallachBeth initiates coverage of the stock at Buy with a $9 price target, or about 76 percent worth of upside from Thursday's close.

Don't Miss: Rumor: Samsung Is Planning Multi-Sided Display for Next Device.