Apple's Still the Coolest Kid on the Block, Even if It's Growing Up
OMG…for the 1st time in years $AAPL was NOT the most looked up stock on CNBC.com yesty. It was $BAC…
— Allen Wastler (@AWastler) July 18, 2013
Apple (NASDAQ:AAPL) earnings are around the corner, and just like putting up the Christmas tree on Black Friday, we're all free to start speculating on what the company has in store for investors. Estimates will roll in right up to the closing bell on Tuesday, after which Apple will report, but the current consensus is pretty clear: don't expect much movement, and think long.
Allen Wastler's comment is interesting because even though Bank of America likely took the spotlight because of earnings, it suggests that Apple is losing a little bit of popularity. Growth expectations this time around are tempered compared to the previous few quarters, where speculation about sales volume took on an almost competitive nature. But it became apparent after the last quarter that the company is maturing.
Apple is expected to transition slowly away from a product cycle-driven, hardware-focused computer company to a software and services company. This means flatter quarterly revenues and steadier earnings. This certainly doesn't make Apple any less of a company, but it does make earnings season slightly less spectacular.
On the company's last earnings call, CEO Tim Cook indicated that Apple needed some more time before it released any cool new products. What's more, it is pretty clear that the company will need several quarters, if not a few years, to pull a new iRabbit out of its hat. Just like products, broad tech industry innovation seems to move in cycles. If one is coming toward a close, then Apple will mature until the next one. At best, analysts expect an interesting product launch sometime in the second half of 2013.
To sum it up: growth has slowed and earnings growth actually contracted last quarter. Small bars on the chart are not as interesting as big bars, and investors are expecting small bars this quarter.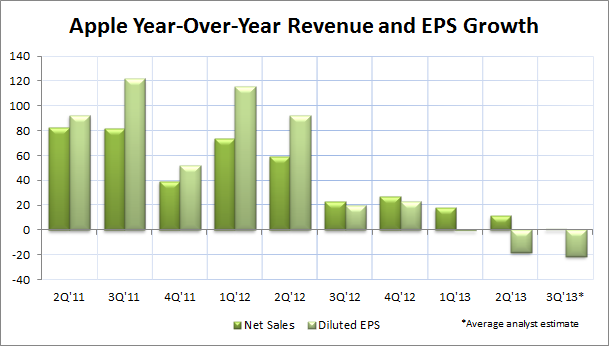 It's important to understand that while the iPhone is by far Apple's biggest cash cow, it is growing the slowest of any major product category. At this point, as indicated below, the iPod is showing negative growth. Sales of the music player have been cannibalized by the iPhone and iPad — a development that is not necessarily bad. Apple executives seem comfortable with the idea that the device's relevancy is diminishing.
Last quarter, the iPad accounted for 20 percent of total revenues while growing 40 percent on the year, the highest growth rate of any category. Following the iPad was revenue from iTunes, software, and services, a category the company and investors will be putting more and more weight on as it grows in the coming years. Mac sales continued to plug along at a single-digit rate.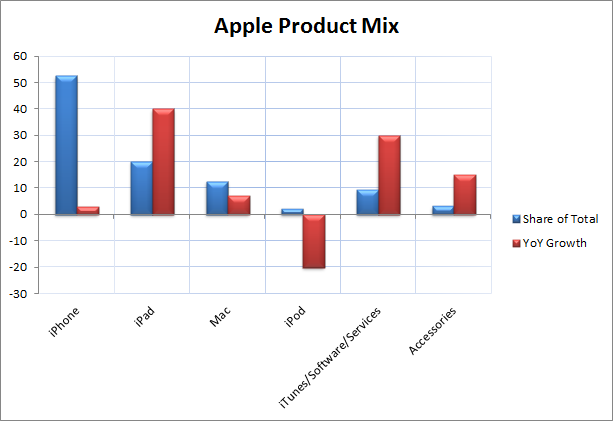 Any way you cut it, Apple is growing up. Year-over-year revenue and earnings growth has clearly decelerated, indicating that the company is ripening into maturity. Apple's transition years have proven to be awkward so far — qualitatively in the conversation surrounding the company and quantitatively in its stock price — and investors from all walks have been forced to change how they think about the business.
Apple's capital return program was a long time coming, but patient investors who have sat with the stock through its fall from over $700 last September were rewarded in April. The company announced the largest single share repurchase authorization in history — $60 billion in total, trumping records set by previous heavy hitters like Microsoft (NASDAQ:MSFT) and Proctor & Gamble (NYSE:PG).
Apple also increased its quarterly dividend by 15 percent, announcing a second-quarter payout of $3.05 per share. All told, by the end of 2015, Apple will return about $100 billion to shareholders. The capital return program seems to have put a floor beneath the stock. Any lower than $400 per share and value investors would practically be obligated to buy shares.
Here's how Apple traded on Friday:

Don't Miss: Government Security Experts Put Apple's Activation Lock to the Test.