Apple's Strong Quarter, Verizon's BlackBerry Exclusive, and 2 More Hot Stocks
Apple Inc. (NASDAQ:AAPL): On Monday, Apple reported earnings per share of $8.26, beating by 33 cents, while revenues of $37.47 billion also beat, by $630 million. Shares are trading around flat despite positive analyst chatter and a round of price target increases. The company moved 33.8 million iPhones, 14.1 million iPads, and 4.6 million Macs during the period. The gross margin fell at 37 percent, which although it dropped 300 bps year-over-year, came at the high end of a guidance range of 36-37 percent. The R&D spend grew 29 percent to $1.17 billion year-on-year, as SG&A saw a 5 percent gain to $2.67 billion.

Verizon Wireless (NYSE:VZ): Verizon has won the exclusive contract for BlackBerry's (NASDAQ:BBRY) new Z30 smartphone, a larger version of the touchscreen Z10. The device will hit stores sometime in November, wearing a sticker price of $200. While it could be a boon for Verizon, CNET notes that, "It appears as if Verizon's "exclusive" arrangement is less about having locked up a deal with BlackBerry, and more about the lack of interest from rival carriers."

Aetna, Inc. (NYSE:AET): Aetna has reported EPS of $1.50, missing by two cents, as $13 billion in revenue beat by $0.11 billion. The earnings include $0.09 per share worth of integration-related costs and $0.03 per share of net realized capital losses. The acquisition of Coventry Health Care and growth in Aetna's own Medicare membership helped boost revenue by 46 percent over last year. Aetna grew its base by 200,000 members in the quarter, racking up a total of 22.2 million.

Toyota Motor Corp. (NYSE:TM): Toyota's Camry, RAV 4, and Prius V hybrid have had their Recommended rating yanked by Consumer Reports, related to poor scores in the new IIHS front overlap crash test. The magazine states it will no longer recommend cars that do poorly in any of the crash tests. The move is a bit of a blow to Toyota, as the Camry has routinely been the recipient of the Recommended designation. The company is aiming to retake the test in December, after making some improvements.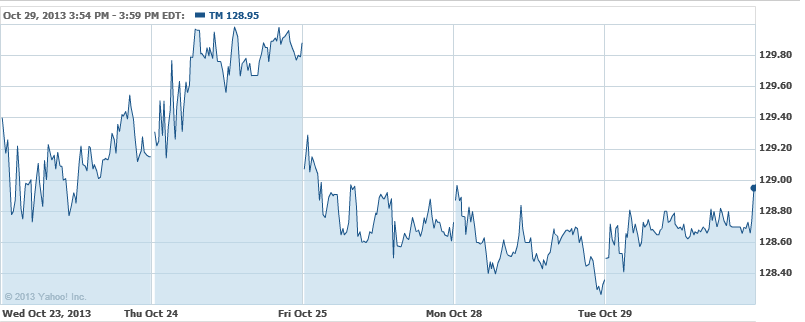 Don't Miss: Did Apple Commit a Design Faux Pas in iOS 7?