Apple's Television Ambitions Hamstrung by Cable Providers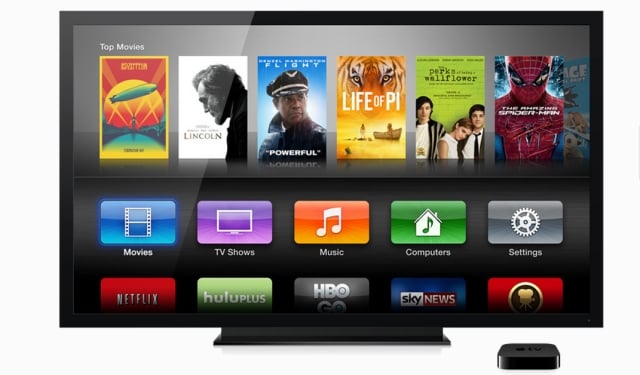 Apple's (NASDAQ:AAPL) ambitious plans to turn its Apple TV device into a revolutionary Internet-based television programming service will likely not come to fruition due to cable operators' reluctance to surrender control of their own video-on-demand businesses.
As previously reported by the Wall Street Journal, Apple began talks with Time Warner Cable (NYSE:TWC), Comcast (NASDAQ:CMCSA), and DirecTV (NASDAQ:DTV) in 2012 over the possibility of creating a unified interface for television programming that would offer users an ad-free television experience featuring live shows and full seasons of currently running programs. Although Apple TV currently offers content from popular video-streaming services such as Netflix (NASDAQ:NFLX), Hulu, and YouTube, it still has few live programming options.
However, Apple ran into some difficulties in its negotiations with various content providers, especially with DirecTV and Comcast. Comcast in particular had a vested interest in keeping an Apple TV Internet-based television programming service from being created, since it was trying to get its own digital media receiver, the X1, into consumers' living rooms. On Thursday, Comcast announced that it was acquiring Time Warner Cable for approximately $45.2 billion in equity value. The merger effectively put the final nail in the coffin for Apple's innovative television plans.
Instead of providing users with a full-fledged Internet-based television programming service, the upcoming Apple TV will likely only give users a slightly more expanded service than what is currently available. According to "people familiar with the matter" cited by the Wall Street Journal, the new Apple TV will only offer users the last five episodes of currently running programs, similar to the video-on-demand services already offered by the content providers. Apple will also place a time-limit on fast-forwarding for shows in order to not compete with traditional television broadcasts.
Industry watchers have been on the lookout for a game-changing Apple television product ever since former CEO Steve Jobs discussed the possibility of an Apple television with his biographer. "I'd like to create an integrated television set that is completely easy to use. It would be seamlessly synced with all of your devices and with iCloud," Jobs told Walter Isaacson according to the Washington Post. "No longer would users have to fiddle with complex remotes for DVD players and cable channels. It will have the simplest user interface you could imagine. I finally cracked it."
Although Apple's progressive approach to Internet-based television programming appears to have been temporarily thwarted, the overall consumer trend toward Internet-based television viewing may eventually push the content providers into reconsidering the California-based company's original proposals.  As viewers continue to migrate from watching traditional broadcast television to viewing content online, Apple TV could still one day become the primary digital content delivery hub for future content providers.
Here's how Apple traded on Friday.
Follow Nathanael on Twitter (@ArnoldEtan_WSCS)        
More from Wall St. Cheat Sheet: