Apple's Tim Cook Hints at 'Big Plans' in Memo to Employees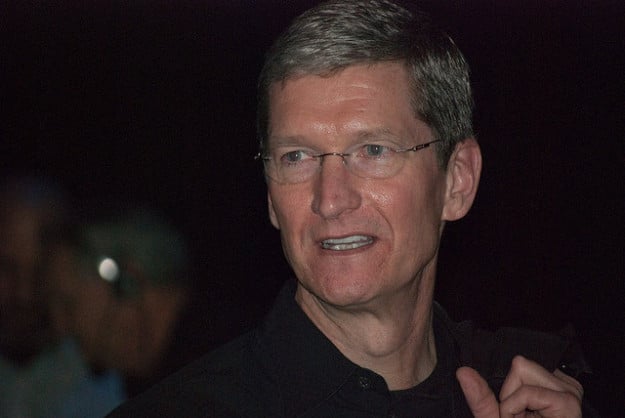 CEO Tim Cook dropped some tantalizing hints about Apple's (NASDAQ:AAPL) plans for 2014 in a holiday memo recently sent to the California-based company's employees. "We have a lot to look forward to in 2014, including some big plans that we think customers are going to love," wrote Cook in an internal memo obtained by 9to5Mac. Many Apple watchers believe those "big plans" will include some new products.
Cook has previously hinted about new product categories that would be unveiled in 2014. After Apple's June quarter results were released, Cook stated that, "[W]e are laser-focused and working hard on some amazing new products that we will introduce in the fall and across 2014." More recently, he observed during the company's fiscal fourth quarter earnings call that, "We see significant opportunities ahead of us and both current product categories and new ones."
Many industry watchers have predicted that Apple will unveil an iWatch or other wearable tech product in 2014. According to 9to5Mac's insider sources, Apple has already assembled a wearable tech product development team with medical sensor specialists, fitness professionals, and battery efficiency experts. There have also been rumors of an Apple television set. Apple recently acquired 3D vision and motion-sensing technology company PrimeSense and may be using the company's patents and technology to create a revolutionary "iTV." Other industry watchers have noted that the growing consumer preference for large-screen mobile devices may lead Apple to release a phablet-size iPhone or a larger-screen iPad in 2014.
Besides hinting at next year's big plans, the Apple CEO recounted the company's achievements during 2013, including the release of the iPhone 5S, iOS 7, OS X Mavericks, the iPad Air, and the iPad mini with Retina display. Cook also emphasized the company's move towards domestic manufacturing by pointing out that the recently released Mac Pro was assembled in a factory in Austin, Texas.
Cook also promoted the Apple's charitable efforts. He wrote that Apple "donated tens of millions of dollars for important charities and relief efforts," including the Red Cross and (RED), a non-profit that funds the global fight against AIDS. Apple's Jony Ive recently participated in a charity auction for RED that raised millions of dollars through the sale of various objects, including a red-colored Mac Pro that was customized by Ive and industrial designer Marc Newson.
Cook also mentioned the company's ongoing efforts to promote workplace equality and diversity. Last month, Cook penned an op-ed for the Wall Street Journal in support of the Employment Nondiscrimination Act, or ENDA, that seeks to end employment discrimination against lesbian, gay, bisexual, and transgender workers. The Apple CEO concluded his memo by stating that, "I consider myself the luckiest person in the world for the opportunity to work at this amazing company with all of you."
Here's how Apple has traded over the past five sessions.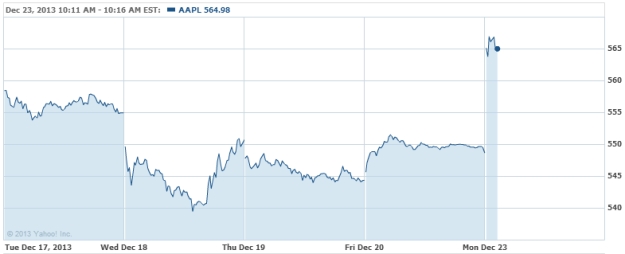 Follow Nathanael on Twitter (@ArnoldEtan_WSCS)
More from Wall St. Cheat Sheet: