Apple's U.S. Smartphone Market Share Gets Twice as Nice in September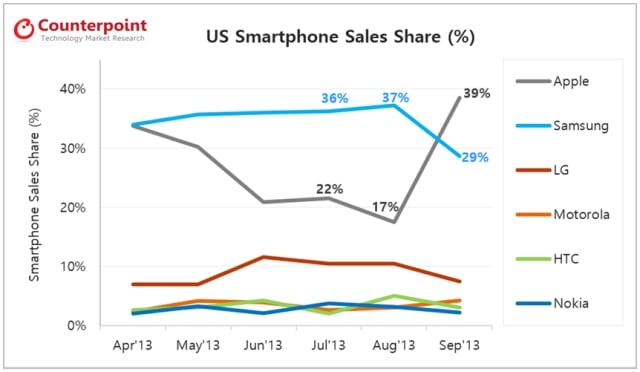 Apple (NASDAQ:AAPL) replaced rival Samsung (SSNLF.PK) as the top-ranked smartphone vendor in the U.S. during the month of September, according to recently released data from market research company Counterpoint.  The Cupertino-based company more than doubled its share of the U.S. smartphone market — from 17 percent to 39 percent — thanks to strong sales of the new iPhone 5S and iPhone 5C. Apple also captured 34 percent of the overall mobile phone market.
Meanwhile, Samsung saw its U.S. smartphone market share slip from 37 percent to 29 percent over the same time period. Google's (NASDAQ:GOOG) Motorola Mobility was the only other smartphone vendor besides Apple to not see market share losses in September. However, Motorola still has less than a 5 percent share of the U.S. market.
"In spite of supply constraints and just three weeks of sales, iPhone 5S raced to become the bestselling smartphone model in the U.S. in September," wrote Counterpoint research director Tom Kang. "Samsung Galaxy S4 was the second best-selling model followed by Apple's new iPhone 5C which captured the third spot."
Kang also noted that returning customers accounted for a high percentage of Apple's iPhone sales. "The key reason for this sudden jump in sales can be attributed to the big wave of upgrades due in this launch month from Apple's huge installed base of iPhone users in U.S. This depicts a healthy replacement cycle and user base growth trends for Apple despite the array of Android devices launching from tens of OEMs every month," wrote Kang.
Not surprisingly, Apple dominated the high-end segment of the smartphone market with a 90 percent share, while Samsung took over half the sales in the mid-range segment. However, Counterpoint research director Neil Shah believes that Samsung can "create a beachhead" in the high-end smartphone market segment via the Galaxy Note 3 and the Galaxy Gear. According to Shah, Samsung may be able to break into the high-end market segment by selling this smartphone and smartwatch together.
Counterpoint's smartphone sales report aligns with similar data released by market research firm Canaccord Genuity via CNET earlier this month. According to Canaccord Genuity, Apple's flagship iPhone was the most popular device at all four of the major U.S. carriers in September. The market research firm also noted that Samsung slipped to second or third place at some carriers during September. Apple's iPads may soon experience a similar sales boost in the U.S. tablet market. The company is widely expected to unveil a fifth-generation iPad and a second-generation iPad mini at a media event in San Francisco tomorrow.
Here's how Apple has traded over the past five trading sessions.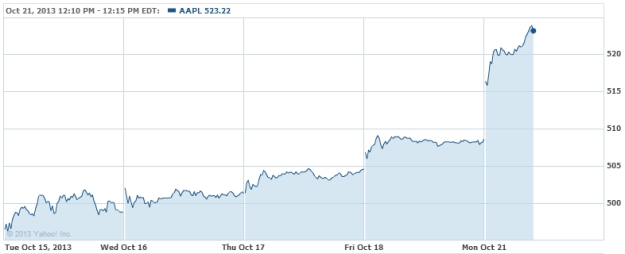 Follow Nathanael on Twitter (@ArnoldEtan_WSCS)
Don't Miss: Analyst: iPhone 5S Shortage Limited Apple's Sales.