Are Apple and Google Stealing the Handheld Video Game Market?
Are Apple (NASDAQ:AAPL) and Google (NASDAQ:GOOG) making traditional handheld video game consoles obsolete? Smartphones powered by Google's Android operating system and Apple's iOS are apparently pulling the rug from underneath makers of traditional portable gaming consoles.
A joint report by market research firm IDC and app analysis company App Annie found that the combined revenue from gaming on smartphones was over three times the total revenue from all the handheld console makers combined. Interestingly, this figure only includes the revenue made from Google Play and Apple's App Store. If the study had included advertising revenue, it would have surpassed traditional video gaming console revenues by an even greater margin. Traditional portable gaming consoles are made by companies such as Sony (NYSE:SNE) and Nintendo.
Although Google Play has racked up slightly more downloads than Apple's App Store, Apple still maintains the lion's share of the revenue. This reflects the overall smartphone market trend, where Android dominates in total user numbers, while Apple is able to better monetize its smaller user base. For a variety of reasons, Apple devices attract high-value consumers who are more likely to download or otherwise respond to ads that the typical Android user will not.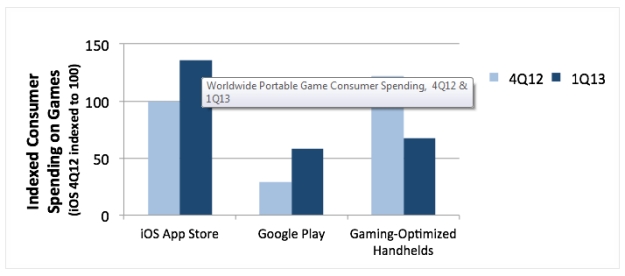 According to the report, games accounted for approximately 40 percent of the total app downloads. The Asia-Pacific, or APAC, region is especially lucrative for all gaming platforms. Spending on Google Play games in this region rose by 10.5 percent, while traditional handheld spending rose 11.6 percent. Despite Apple's flat growth in this region, it was still the Cupertino-based company's top region for revenue.
So what does the future hold for makers of gaming-optimized handheld devices? IDC research manager Lewis Ward shared his views on the future of portable gaming, stating, "Digital distribution has reached an inflection point in mobile and portable gaming, and future success will largely boil down to finding a unique balance of freemium business model excellence and that ability to deliver compelling social experiences."
Here's how Apple and Google has traded so far this week.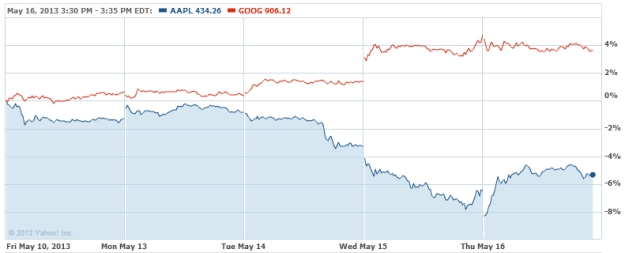 Don't Miss: Apple's App Store Rings Up 50 Billion Downloads.