Are Apple and Samsung Leaving Everyone Else Behind?
The great smartphone battle currently taking place in the technology industry is still early in process, but there are clear cut winners emerging. A new report showing key trends in the United States still has Apple (NASDAQ:AAPL) and Google (NASDAQ:GOOG) battling it out for the top of the hill, while everyone else targets third place.
According to comScore, a leader in measuring the digital world, 125.9 million people in the U.S. owned smartphones during the final three months of 2012, representing a 5 percent increase from the September-ended quarter. However, only two companies contributed to the majority of gains.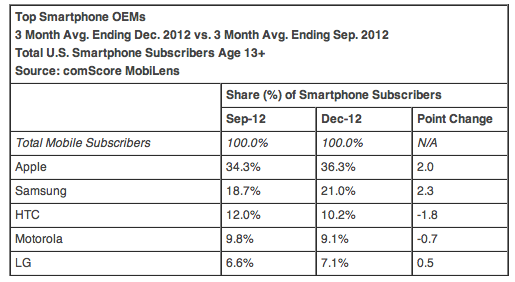 As the chart above shows, Apple ranked as the top original equipment manufacturer in the fourth quarter with a 36.3 percent market share in the U.S., up 2 percent from the previous quarter. Samsung came in second with 21 percent market share, up 2.3 percent from the third quarter. Other companies such as HTC and Motorola both logged market share declines quarter-over-quarter. LG, a South Korean multinational conglomerate, managed a modest 0.5 percent gain in market share.
A slightly different story in smartphone platforms…
When it comes to the smartphone platform in the U.S., Google's Android came in on top with a market share of 53.4 percent in the fourth quarter, up 0.90 percent from the third quarter. Apple maintained second place and increased its market share 2 percent to 36.3 percent. BlackBerry (NASDAQ:BBRY) ranked third with 6.4 percent market share, down 2 percent. Microsoft (NASDAQ:MSFT) also lost market share, while Symbian was flat from the previous quarter.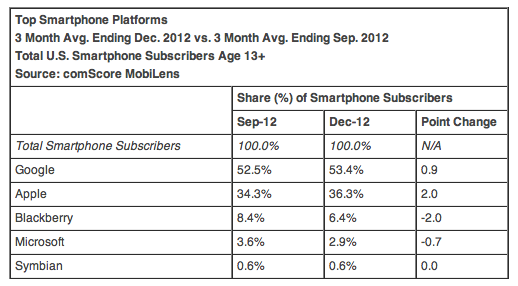 Although comScore finds BlackBerry to be ahead of Microsoft, Strategy Analytics reports that Microsoft Windows Phone overtook BlackBerry operating system to become the third largest smartphone platform in the U.S. during the fourth quarter.
Further clouding the race for the number three spot, BlackBerry released a statement on Wednesday claiming its new smartphone had an impressive showing in foreign markets. "In Canada, yesterday was the best day ever for the first day of a launch of a new BlackBerry smartphone. In fact, it was more than 50 percent better than any other launch day in our history in Canada," said Thorsten Heins, BlackBerry President and CEO. "In the UK, we have seen close to three times our best performance ever for the first week of sales for a BlackBerry smartphone."
Investor Insight: Are Facebook Users Becoming Less Interested?