Are Apple Displays About to Get Even Better?
Could sapphire crystal eventually replace Corning's (NYSE:GLW) Gorilla Glass as Apple's (NASDAQ:AAPL) primary product covering material? Last week an unconfirmed report from Taiwan's TechNews website stated that Apple was planning to replace the iPhone's physical home button with a sapphire crystal capacitive touch button that will also function as a fingerprint sensor. Sapphire crystal is almost as hard as diamond and is the same material that Apple used to cover its iPhone camera lens.
Although there is no solid evidence that Apple is abandoning Corning's Gorilla Glass in favor of wholesale adoption of sapphire crystal, it appears that Corning wanted to make sure it never crossed the iPhone maker's mind. Corning recently released an article that outlines the advantages of Gorilla Glass over sapphire crystal. Corning seems to acknowledge the rumors in the article, stating "Recently, speculation has arisen that manufactured sapphire crystal might become an alternative to Corning's Gorilla Glass."
Is Apple now a once-in-a-decade buying opportunity? Click here to get your 24-page Ultimate Cheat Sheet to Apple's Stock now!
Corning senior vice president Jeffrey W. Evenson outlines the advantages of Gorilla Glass over sapphire crystal, stating "What would people say if someone invented a cover that was about half the weight, used 99 percent less energy to make, provided brighter displays, and cost less than a tenth of sapphire? I think they'd say that sapphire was in real trouble. It so happens that we at Corning already invented that cover — and it's called Gorilla Glass."
James R. Steiner, senior vice president and general manager of Corning's Specialty Materials segment notes that the company is continually working on making Gorilla Glass even better. Corning is developing a non-reflective version of its glass to enable users to view mobile screens in bright sunlight. Corning is also working on integrating antimicrobial properties into the glass to eliminate bacteria from device screens. Steiner also notes that Gorilla Glass is already made "at a thinness level that allows it to be curved and formed into shapes without sacrificing any of its toughness.  This will allow manufacturers to offer more distinctive devices in the future."
Although it is unclear if Apple was ever seriously considering replacing Gorilla Glass with sapphire crystal, Corning's proactive defense of Gorilla Glass shows that the speculation was serious enough to warrant a response from the supplier of Apple's display covering material. Perhaps the most interesting aspects of Corning's defense are the fantastic possibilities that the newer versions of Gorilla Glass will offer to Apple and its device users.
NEW! Discover a new stock idea each week for less than the cost of 1 trade. CLICK HERE for your Weekly Stock Cheat Sheets NOW!
Here's how Apple and Corning have traded so far this week.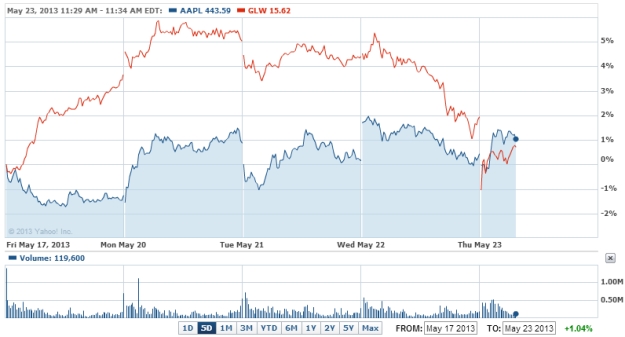 Follow Nathanael on Twitter (@ArnoldEtan_WSCS)
Don't Miss: Analyst: iWatch Not Coming Before Next Year.