Are Apple Shorts to Blame for the Avalanche?
Can Apple's (NASDAQ:AAPL) seemingly uncontrolled and continuing drop from its September peak be explained on short sellers hounding the stock? Easily, according to data from S&P Capital IQ.
The research firm found that the number of Apple shares sold short went up from 13.6 million at the end of August to more than 21 million in mid-November, the highest in four years. That represented an increase in bearish sentiment of 59 percent over less than three months. While the number dropped to 17.9 million at the end of the year, it was still among the highest levels of 2012. And while short interest equaled only 1.9 percent of total shares outstanding, the rapid growth in it made its mark. (See graph from S&P Capital IQ)
Should you buy or sell Apple's stock ahead of earnings in a few days? Our 20-page proprietary analysis will help you save time and make money. Click here to get your SPECIAL REPORT now.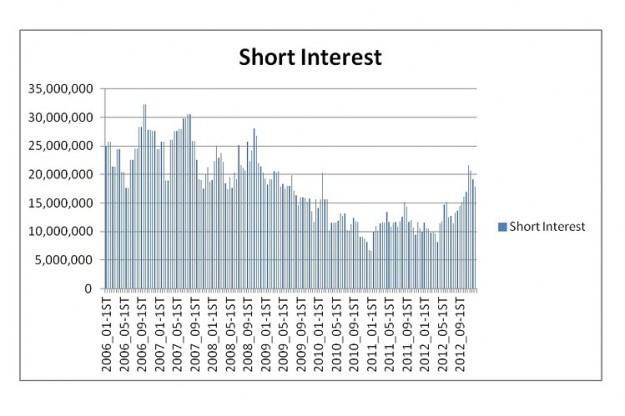 "The shorts continue to pound the stock," Banyan Partners' Robert Pavlik told The Wall Street Journal. Several of Banyan's accounts own Apple shares and added exposure in the dying portions of 2012. But Apple has continued to fall in the New Year and dipped below $500 earlier this week, making Pavlik nervous. "I think you have to really watch it now," he said. "The downside pressure is prevalent and the technicals just do not look good on this right now."
With respect to Apple's stock price technical chart since 2006, here's how the correlation to the chart above looks after today's close at $502.68: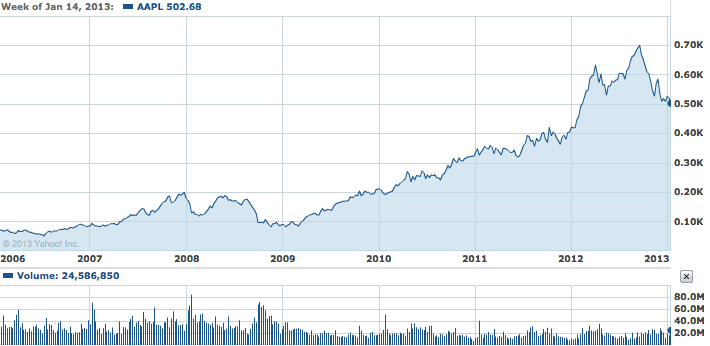 Shares are now down about 28 percent from its peaks of just a few months ago, when the stock closed at $702.10 on September 19 for its highest level ever. Sentiment around the company is turning increasingly negative and according to FactSet data, Apple buy recommendations have dropped to 85 percent from 92 percent in September. Analysts are also trimming their rather high price targets on the company, with the average target dropping 7 percent from $792.40 in September to $734.96.
Start 2013 better than ever by saving time and making money with your Limited Time Offer for our highly-acclaimed Stock Picker Newsletter. Click here for our fresh Feature Stock Pick now!
The date that most Apple watchers are now looking at rather keenly is January 23 when the company announces its fiscal first quarter earnings results. In fact, an extraordinary earnings report may completely alter the sentiment. That idea is making several investors bet against the stock, that any gains could force them to buy back stock to cover their bets, creating a "short squeeze" that could propel the stock even higher, they told The Journal.
Don't Miss: Here's Why the Next 90 Days Will Be Good for Apple.