Are Apple's iPad Prices Out of Touch?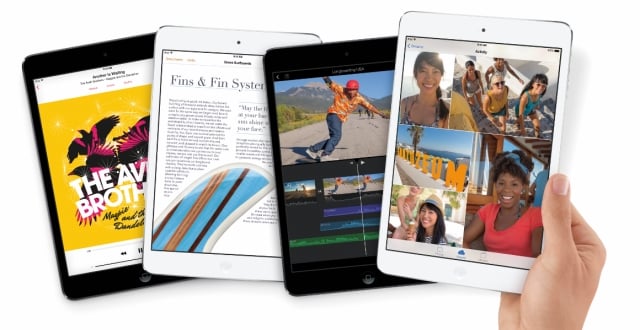 Are the prices for Apple's (NASDAQ:AAPL) new iPad models unrealistic in today's tablet market? According Mercury News columnist Troy Wolverton, Apple has lost touch with mainstream consumers by selling its tablets for prices much higher than those of comparable devices offered by its rivals.
Although Wolverton believes that the $500 base price for Apple's flagship 9.7-inch iPad was appropriate for previous models, he noted that the average prices in the overall tablet market are now much lower. For example, Samsung's (SSNLF.PK) Galaxy Tab 3 10.1 now retails for $360, while Google's (NASDAQ:GOOG) Nexus 10 sells for $400. This means that Apple's iPad Air costs at least $100 more than comparable tablets from the Cupertino-based company's competitors.
On the other hand, Wolverton admitted that the addition of a 64-bit A7 processor and the overall thinner and lighter design of the iPad Air may justify the higher cost. However, the tech commentator believes the prices for Apple's new iPad mini with Retina display and the legacy iPad 2 are "simply baffling."
Wolverton noted that Apple's original iPad mini was already lagging behind its rivals by having a lower-resolution screen, an older processor, and a $330 price tag that was $100 more than most other tablets in its size category. In this sense, he believes that the addition of a Retina display and an A7 processor for the second-generation iPad mini is only bringing Apple's small tablet up to speed with the rest of the market.
However, instead of keeping the price around $330, Apple raised the price of the iPad mini with Retina display to $400. Wolverton believes this is unreasonably high, considering that Amazon's (NASDAQ:AMZN) 7-inch Kindle Fire HDX and Google's Nexus 7 both retail for $230. Apple also dropped the price of the original iPad mini by only $30, which means that even its older-generation devices cost considerably more than many other companies' latest models.
The tech commentator believes that Apple's high iPad prices are the reason why the company's tablet market share has recently plunged. According to IDC data, Apple's share of the worldwide tablet market fell from 60.3 percent in the second quarter of 2012 to 32.4 percent in the second quarter of 2013.
Although Wolverton raises some interesting points about the evolving tablet market, he seems to be missing the other reasons behind Apple's premium prices. Apple's high-quality hardware is not the only reason it is is able to charge a higher price for its products.  Tablet usage revolves around apps and Apple arguably has the richest ecosystem of premium content. In other words, Apple's iPad buyers are not just purchasing a tablet for certain technical specifications; they are buying what they consider a superior user-experience.
Here's how Apple has traded over the past five trading sessions.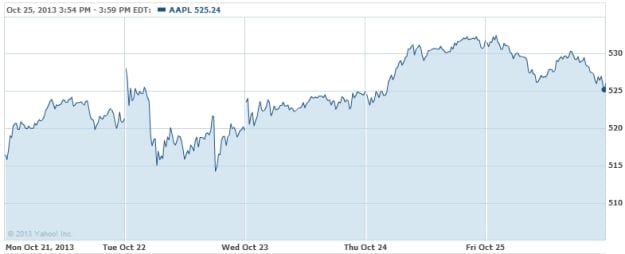 Follow Nathanael on Twitter (@ArnoldEtan_WSCS)
Don't Miss: Here's the Latest Carrier to Jump on the Apple iPad Bandwagon.