Are Apple's New iPads the Coup de Grâce for the PC Market?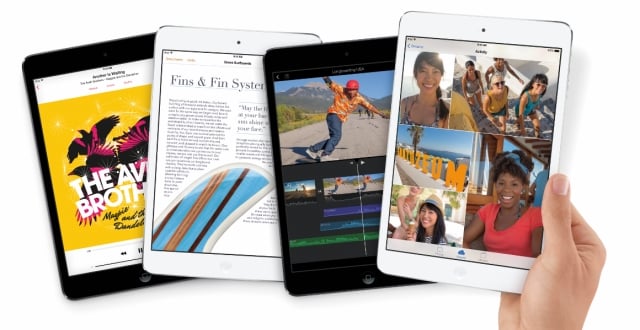 A recent note to investors from Wells Fargo analyst Maynard Um suggests that Apple Inc.'s (NASDAQ:AAPL) latest iPads may further undermine the declining worldwide PC market, Apple Insider reports. Although Microsoft Corp.'s (NASDAQ:MSFT) September-quarter earnings beat analyst revenue and earnings per share expectations, Um believes the 7 percent decline in Windows OEM revenue confirmed a weakness in the overall PC market.
While Microsoft's fairly positive earnings report suggests that the PC market has stabilized, Um believes this may be a short-term trend. According to Um, Microsoft's business demand is "being driven by Windows 7 refresh." The analyst noted that more than 75 percent of desktops are still running Microsoft's last-generation operating system. Not only does this suggest that the PC market hasn't stabilized, it also indicates that Windows 8 has not been widely adopted by Microsoft's enterprise users.
Unfortunately for Microsoft, Apple's new iPad Air and iPad mini with Retina display are likely to further erode the Redmond, Washington-based company's Windows revenue. "The introduction of new Apple products and other competitively priced tablets could adversely impact consumer PC sales," wrote Um, via Apple Insider. Um is not the only analyst to note the dramatic consumer shift from traditional desktops to tablets. According to market research firm Gartner, worldwide PC shipments in the third quarter declined by 8.6 percent from the same period last year.
"The third quarter is often referred to as the 'back-to-school' quarter for PC sales, and sales this quarter dropped to their lowest volume since 2008," said Gartner analyst Mikako Kitagawa. "Consumers' shift from PCs to tablets for daily content consumption continued to decrease the installed base of PCs both in mature as well as in emerging markets."
The impact of tablet shipments on the overall computer device market becomes even more apparent when tablets are included in worldwide PC market calculations. According to market research firm Canalys, Apple is the top PC vendor in the world when tablets are counted alongside traditional desktop computers and laptops. Here's how Apple has traded over the past week.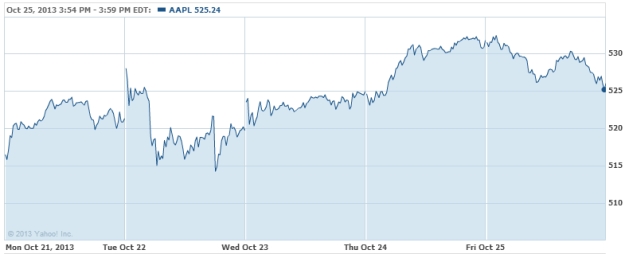 Follow Nathanael on Twitter @ArnoldEtan_WSCS
Don't Miss: Apple's OS X Mavericks Sets This New Record.