Are Apple's New iPhones Less Accurate Than Samsung's Galaxy S3?

Apple's (NASDAQ:AAPL) iPhone 5S and iPhone 5C performed worse than Samsung's (SSNLF.PK) Galaxy S3 in a recent touch accuracy test conducted by Finnish technology testing company OptoFidelity. The company used an automated Touch Panel Performance Tester device to measure the touch panel accuracy on Apple's two new iPhones, as well as Samsung's older-generation Galaxy S3.
The device tested the touch panel accuracy on each device by tapping across the screen and comparing the actual touch position with the reported coordinates. As noted by OptoFidelity, the test placed a pass/fail limit of +/- 1 millimeter for each touch position. In the graphic seen above, a green point indicates a pass and a red point indicates a fail.
In the words of OptoFidelity, the test results were "highly surprising." The test revealed that Apple's iPhones had "extremely bad" touch accuracy around the edges of the screen. The test also showed that the iPhone's touch performance is better towards the bottom of the screen.
As pointed by OptoFidelity, this lack of accuracy can negatively affect the user's end experience with the iPhone. "Because the touch accuracy is more even in Galaxy S3 than in iPhone 5S and iPhone 5C, you get a lot less typing errors, and letters which are close to the edge are working better," noted the testers.
Although the OptoFidelity used an automated testing machine to conduct this test, the company noted that users can conduct their own tests by hand. The company suggests testing the "Q" and "P" buttons on a device's virtual keyboard in order to get a sense of a screen's touch accuracy.
Although Apple's iPhones performed much worse than Samsung's device in the touch accuracy test, the company found that the iPhone 5S and iPhone 5C performed significantly better than the Galaxy S3 in both the web browser opening time tests and the camera application opening time tests.  Here's how Apple has traded over the past five trading sessions.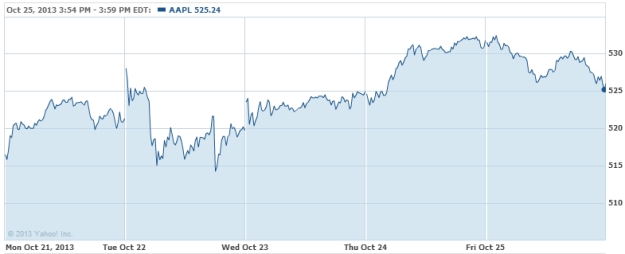 Follow Nathanael on Twitter (@ArnoldEtan_WSCS)
Don't Miss: Could This Invention Give Apple a 'Kid-Friendly' Marketing Edge?