Are Apple's Retail Stores Still Thriving?
While the company's retail stores continue to play a critical role in building the Apple (NASDAQ:AAPL) brand, the performance of this portion of the business has been mixed of late, according to Needham's Charlie Wolf. The analyst found that Apple's same-store sales fell 4.8 percent in the December quarter, down from 5.4 percent growth in September.
Sales at Apple Stores boomed over the ten-year period between 2002 and 2012, according to Wolf, with same-store sales growing at a compounded annual rate of 17.9 percent in the period. However, the rapid expansion of the company's iPhone and iPad distribution networks, which ensures that shoppers of these bestselling products do not need to enter an Apple Store to make their purchase, has had a big impact.
"Despite a continuing expansion of the Apple Store footprint, store revenues have not kept pace with the growth in Apple's revenues because of the rapid expansion of the company's iPhone and iPad distribution network," Wolf wrote in an analysis. "We expect this pattern to continue."
Apple chief executive Tim Cook had praised the company's retail wing during his talk at the Goldman Sachs tech conference on Tuesday, saying visiting a company store had the same effect on him as the antidepressant pill Prozac.
"It's the best retail experience," Cook said. "It's an experience where you walk in and instantly realize it's for the purpose of serving, not selling. The Genius Bar helps you not only with an issue, but it helps you get more out of your Apple products. It's a place that has an important role in the community."
An Apple filing with the U.S. Securities and Exchange Commission earlier this year had revealed the company's plans to open 30 to 35 additional stores by September 2013, about three-quarters of which will be located outside the U.S. Wolf found in his analysis that international outlets represented 37 percent of the 401 Apple stores at the end of December.
"The shift in geographic focus reflects the increasing percentage of Apple's sales coming from abroad," Wolf wrote. "In the December quarter, international sales accounted for 61 percent of the company's worldwide sales. The major driver of the shift from domestic to international sales has been the iPhone."
Chart courtesy of Asymco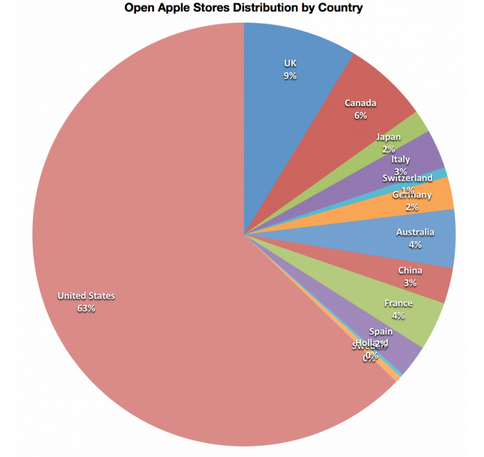 Don't Miss: Will Apple TV Overtake Microsoft's Xbox?