Last month, we discussed how Chinese internet stocks were being hit hard as Chinese slowdown fears were rising, and more government regulations were being considered.  The Wall Street Journal reported, "China's government is considering new regulations to govern a corporate structure that has enabled a wave of Chinese firms to list overseas by circumventing rules against foreign investment in sectors like the Internet."  Although Chinese government intervention is likely to remain an issue for years to come, Chinese internet stocks have rebounded in the past month.
China's manufacturing sector picked up moderately in October, breaking a three-month contraction.  The PMI, designed to give an early snapshot of the month's factory activity, rose to 51.1 in October from September's final reading of 49.9, surpassing the 50-point level for the first time since July.  "Thanks to the pick-up in new orders and output, the headline flash PMI rebounded back into expansionary territory during October, marking a steady start to manufacturing activities in the four quarter," said Qu Hongbin, China economist at HSBC (NYSE:HBC).  Let's take a look at the most popular Chinese internet stocks.
Investing Insights: Are Gold & Silver Investing Safe-Havens Again?
Baidu (NASDAQ:BIDU) is China's biggest internet company by market value, and it often referred to as the Chinese Google (NASDAQ:GOOG).  Although shares fell below $110 at the beginning of October, shares have rallied to $130 per share.  In the past month, shares have increased 11%.  Investors should pay close attention to Baidu's earnings release, which is scheduled after the close today.  If Baidu beats estimates, then it could set the stage for rally in the following Chinese internet stocks as well.  However, if Baidu misses earnings, it become a look-out below scenario.  As the chart below shows, Baidu is flirting with its 200-day MA, but still has support from its 2009 trend line.  If this trend line is broken, things could turn ugly for Chinese internet stocks.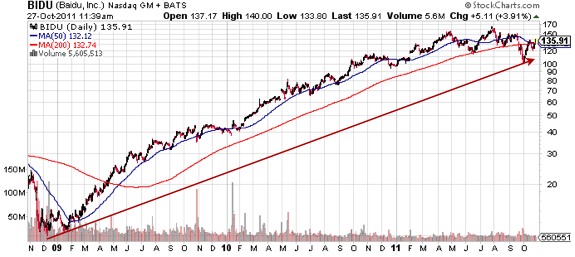 Sina Corporation (NASDAQ:SINA) and Youku.com (NYSE:YOKU) have both bounced back 7% in the past month.  Sina is the equivalence of Twitter in China, while Youku.com operates as an internet television company in the Peoples Republic of China.  Sina was hit especially hard on Wednesday, because reports came out that said the Chinese government might put limits on online-media and social-networking sites.  Youku.com was recently downgraded to Neutral from Positive at Susquehanna.  The company reports earnings on Monday, and has beat estimates in the previous four quarters.
Super Hot Features: Are These 5 Momentum Stocks Broken?
Although shares are down 2% year-to-date, Sohu.com (NASDAQ:SOHU) has bounced back 5% in the past month.  Sohu.com is the operator of China's most visited website.  The company will be announcing third quarter results on Monday, before the opening bell.  Analysts expect the company to report $1.16 earnings per share, which would represent a 15% increase from last.  Sohu's gaming unit, Changyou (NASDAQ:CYOU), is also announcing its earnings before the bell on Monday.
NetEase.com (NASDAQ:NTES) is one of the best performers in the past month, as shares have surged 27%.  Shares have increased 38% year-to-date.  Earlier this month, Piper Jaffray upgraded the firm from Neutral to Overweight, and raised the price target from $55 to $59.  Shares currently trade at $50.  Other high performing internet plays include Shanda Interactive Entertainment (NASDAQ:SNDA) and Renren Inc. (NYSE:RENN).  Shares of both companies have increased by 16% and 13%, respectively.
Shares of E-Commerce China Dangdang Inc. (NYSE:DANG) have fallen 77% year-to-date, but have risen 8% in the past month.  The company is thought of as the Chinese Amazon (NASDAQ:AMZN), and the improved outlook in China has given shares an extra boost this month.  The company also launched a mobile application for Apple's (NASDAQ:AAPL) iPhone in the second quarter of this year.  The new iPhone application, along with its existing Android application, generates thousands of orders on a daily basis for the company.
Don't Miss: Weak Consumer Confidence Hasn't Shaken These 6 Stocks.