Are iPhone Sales Set to Get This Big Boost?
"So perhaps it's time for Apple to celebrate," wrote Asymco analyst Horace Dediu at the end of last week, regarding the iPhone's debut on Deutsche Telekom's T-Mobile network. "This year, after six years, Apple will have completed entry into its first major phone market."
Now that Apple's (NASDAQ:AAPL) iPhone is offered by all four of the United States' major carriers, the task set before analysts is estimating how many of the iconic devices will be sold by T-Mobile. After all, with Apple, the analysis of the company's fortunes is closely tied to numbers.
According to Dediu's analysis, the percentage of total subscribers at AT&T (NYSE:T), Verizon (NYSE:VZ), and Sprint (NYSE:S) that have activated iPhones have produced sales patterns that are fairly consistent across all three carriers. The longer the product is available, the higher the activation rate.
Lining up with that pattern, given that Apple's device initially debuted just on AT&T's network, the carrier has the best numbers: 72 million iPhones have been activated from its launch in 2007 through the end of 2012 and 24 million devices are expected to be sold this year…
The iPhone trickled down to Verizon four years later, and the numbers reflect that gap. The company has activated 26 million phones in total, and based on the sales pattern, Dediu predicted that the number of activated iPhone this year will swell to 18 million.
In comparison, Sprint — which began selling iPhones nine months after Verizon — has activated 8.5 million units in total and its 2013 numbers are expected to hit 8 million. For T-Mobile, which has the smallest of all subscriber bases, the analyst has predicted a penetration rate of 10 percent and annual sales of 3.4 million.
Taking all this data together suggests that top wireless carriers will sell approximately 53 million iPhones to 17 percent of their combined 320 million subscribers in 2013.
These numbers show a very important characteristic about the iPhone. According to Dediu's interpretation of the numbers, sales grow stronger the longer the device has been available, which indicates that consumer demand remains strong even after it has been on the market for a long period of time. While this information is all well and good for wireless carriers, it fails to take into account a very important factor: product refresh cycles…
When determining their estimates for quarterly iPhone sales — an important contributor to revenue expectations as the device accounts for a large portion of the company's product sales — the refresh cycle is essential for interpreting the data sourced from supply checks. Rumors of a new device in Apple's pipeline usually crimp sales figures because potential buyers usually wait for the update to purchase a device. Dediu's data smoothes out these cyclical rises and falls.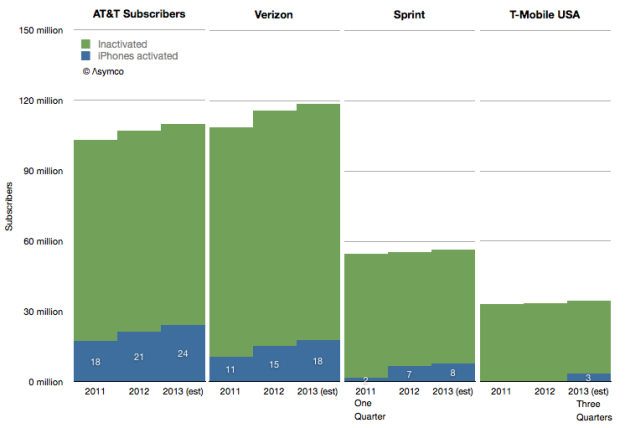 Don't Miss: Apple's New Jobs Point to Big Things Ahead for Siri.