Are iPhone Users More Social Than Others?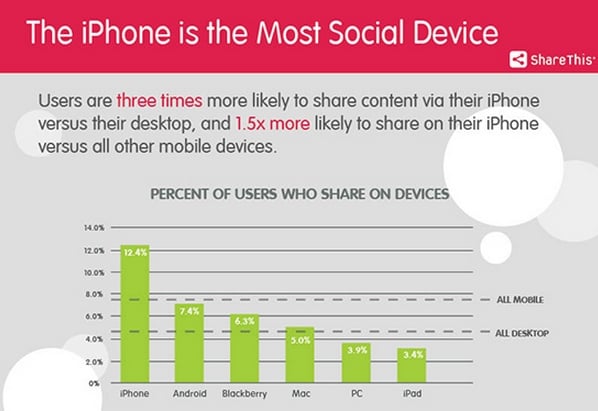 A recent study by Share This revealed that "the iPhone is the most social device." Share This, the company that created the sharing widget of the same name found on many websites, recently unveiled the results of its 30 day study of desktop and mobile web users' social behavior.
The study monitored the sharing behavior of users on the 2.4 million websites in the Share This network. Altogether, the company studied 4.9 billion desktop "social signals," and 1.2 billion mobile signals. Based on this data, Share This concluded that iPhone users are 1.5 times more likely to share content through their iPhones than users of all other mobile devices.
According to the study, 12.4 percent of iPhone users shared content over the 30-day period, versus 7.4 percent of Android-based mobile device users. Apple (NASDAQ:AAPL) users' inclination to share likely makes them more valuable to advertisers. "With these insights, publishers and advertisers can understand the connections between content, consumers, their devices and their sharing habits in order to navigate the ever-changing digital, social and mobile landscape," notes Share This CEO Kurt Abrahamson via BusinessWire.
The study also found that iPhone users are three times more likely to share content on their mobile device than they are on their desktop computers. Apple led in desktop-based sharing with 5 percent of Mac users sharing content over the 30-day period.  However, only 3.9 percent of PC users shared content over the same time period.
Facebook (NASDAQ:FB) was the most popular venue for sharing content on the iPhone, accounting for 66 percent of all sharing. However, Pinterest was the dominant sharing website for iPad users. This usage pattern may be related to the iPad's larger screen, which is better suited to viewing images on photo-sharing websites like Pinterest.
Overall, mobile users are more likely to share, no matter what type of mobile device they use. Share This found that mobile device users are nearly twice as likely as desktop users to share content on social networks.
Here's how Apple has traded so far today.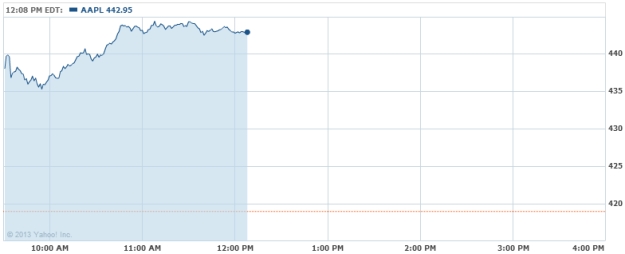 Follow Nathanael on Twitter (@ArnoldEtan_WSCS)
Don't Miss: On Hold? Apple Wants to Make Waiting Fun.