AT&T Offers U-verse Screen Pack, Apple's Record App Downloads: Tech Business Roundup
 AT&T (NYSE:T): Closing Price $35.40
AT&T is now offering U-verse Screen Pack which will provide its television customers a new method with which to view movies across screens. At $5 per  month, U-verse TV Screen Pack customers will receive unlimited, instant playbacks from an extensive library of movies on U-verse TV, Uverse.com, and on the U-verse application for tablets and smartphones, all without the need to rent DVDs. The company is providing a free preview of Screen Pack Monday through Sunday, January 13th.
Mitek Systems (MITK): Closing Price $3.76
The mobile imaging software solutions provider Mitek said Monday that it has been issued United States Patent No. 8,326,015, "Methods for Mobile Image Capture and Processing of Documents," by the Patent and Trademark Office. With the addition of patent, Mitek now holds 13 domestic and international patents issued, along with 14 patent applications pending in the United States and in Canada.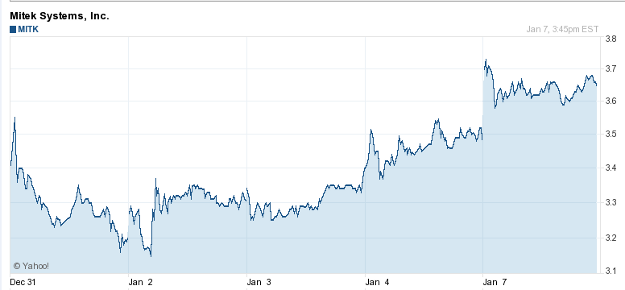 Are these stocks a buy or a sell? Let us help you decide.  Check out our Wall St. Cheat Sheet Stock Picker Newsletter now>>
Apple (NASDAQ:AAPL): Closing Price $524.16
On Monday, Apple reported that its customers have downloaded more than 40 billion applications, with almost 20 billion last year alone. The App Store holds in excess of 500 million active accounts and experienced a record-breaking month of December with over two billion downloads. Apple's developer community has created more than 775,000 applications for iPhone, iPad and iPod touch users on a global scale, and developers have been paid over seven billion dollars by the company.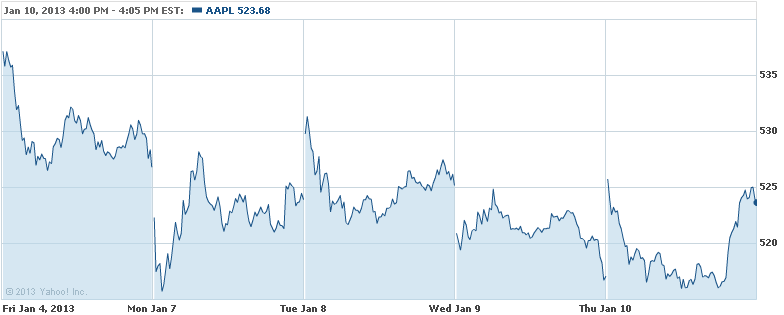 Yahoo! (NASDAQ:YHOO): Closing Price $19.40
Yahoo! saw its shares downgraded at Bernstein Monday to Market Perform from Outperform, along with a price target of $23.  The analyst pointed out that the scheduling of the Alibaba initial public offering is not nailed down, and also that the company's  core business might not be as strong as has been anticipated during the first-half.
Don't Miss: Has AT&T Unleashed a Netflix Killer?