Back in Black: BlackBerry Unveils New Z30 Smartphone
Another day, another dollar — and another BlackBerry (NASDAQ:BBRY) story. But this time around, it's not a speculation on how the Canadian smart company will be divvied up in a sell. Rather, it's a report on the new device that BlackBerry itself is now planning to sell.
That's right: BlackBerry's business is still kicking even though it is starting to look more and more likely that the smartphone maker will soon be put on the auction box. Despite announcing back in August that BlackBerry was forming a committee of team members to "explore strategic alternatives" for the business, the company surprised investors, consumers, and analysts Wednesday when it reported the launch of a new Z30 smartphone that will join the ranks of other BlackBerry 10 devices that have failed to garner significant consumer interest.
According to CNET, BlackBerry's announcement Wednesday unveiled a a full touchscreen equipped model with a 5-inch display and 4G capabilities. The Z30 will come with stereo speakers, a bigger battery, and the most recent 10.2 version of the BlackBerry 10 OS, reflecting BlackBerry's push to provoke consumer interest in its new operating system despite the platform's fall to No. 4 behind Microsoft (NASDAQ:MSFT) in the market.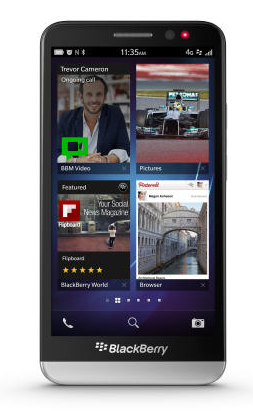 BlackBerry's announcement Wednesday is especially interesting in that it was so low-key. Unlike Apple's (NASDAQ:AAPL) event in California last week that amassed a significant amount of attention and hype, BlackBerry chose to present its new flagship smartphone first in Kuala Lumpur, Malaysia, potentially hoping that critics would remain quiet about its decision to launch a new device when the company's future is already so precarious.
Nevertheless, BlackBerry is reportedly still ready to line its Z30 up against the likes of Samsung Electonics's Galaxy 4S and Apple's newest iPhone 5S, maintaining that the new device is its "biggest, fastest, and most advanced smartphone" to date. According to CNET, the Z30 will launch at select carriers and retailers in the U.K. and the Middle East starting next week, and then make its way to other regions before the start of the holiday season.
BlackBerry's next earnings report is due next week and the Waterloo, Ontario-based company is undoubtedly hoping that it fared better in its fiscal second quarter than it did in the first. When BlackBerry last reported its earnings in late June, the bottom all but fell out for the company, and it suffered increased consumer disinterest, significant layoffs, and damming analyst notes. Now, the company is hoping it can reroute itself and make some kind of comeback, but it's still unclear how successful that can be.
Don't Miss: Sprint Jumps on Upgrade Plan Bandwagon.