Barnes and Noble Reports More Losses, Won't Give Up on Nook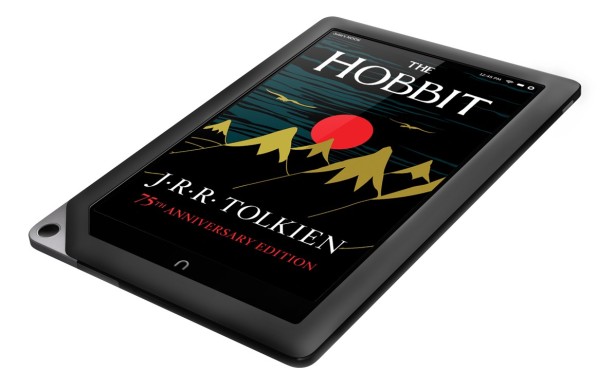 Struggling book retailer Barnes and Noble (NYSE:BKS) reported earnings that were expectedly disappointing on Tuesday morning, sending the company's stock tumbling 11 percent at the time of writing. The company's fiscal first quarter revenue fell 8.5 percent to $1.3 billion, coming in just below analyst estimates of $1.32 billion. Consolidated earnings before interest, taxes, depreciation and amortization (EBITDA) showed a loss of $8.9 million versus earnings of $5.8 million in the fiscal first quarter of last year.
Barnes and Noble's retail division showed a revenue of just $1 billion for the quarter, down 9.9 percent from last year. The company said it had been expecting such a loss due to store closures and stagnant online sales. Bookstore sales fell 7.2 percent for the quarter, but the retailer pointed out that the successful Hunger Games and Fifty Shades of Grey trilogies boosted sales last year. Overall, the company posted a net loss for the quarter of $87 million versus $39.9 million lost during the fiscal first quarter of last year.
As for the Nook, Barnes and Noble is refusing to give up on its e-reader despite the Nook's inability to compete with Amazon's (NASDAQ:AMZN) Kindle or Apple's (NASDAQ:AAPL) iPad. The Nook segment, which includes digital content as well as the devices themselves, reported revenue of $153 million, a fall of over 20 percent from a year ago. Barnes and Noble noted a decline in device sales as well as the absence of popular series that were seen last year as reasons for the shrinking revenue.
Michael L. Huseby, president of Barnes and Noble and Chief Executive Officer of Nook Media, outlined some future plans where the company has to continue developing the Nook e-reader. "The company intends to continue to design and develop cutting-edge Nook black and white and color devices. We will continue to offer our award-winning line of Nook products at the best values in the marketplace.
At least one new Nook device will be released for the coming holiday season and further products are in development. All Nook devices will continue to be backed by world-class pre- and post-sales support in Barnes and Noble stores, as well as ongoing software upgrades," Huseby said.  

According to the company's earnings press release, Barnes and Noble's founder Leonard Riggio has abandoned his plans to buy the company's retail business. Back in February, Riggio, who is also the book store's chairman and largest shareholder, said he was interested in purchasing Barnes and Noble's 680 stores and its website in a move that would separate them from the failing Nook business.
In a Securities and Exchange Commission filing, Riggio said, "While I reserve the right to pursue an offer in the future, I believe it is in the company's best interests to focus on the business at hand. Right now, our priority should be to serve the more than 10 million customers who own Nook devices, to concentrate on building our Retail business, and to accelerate the sale of Nook products in our stores and in the marketplace." Riggio's decided disinterest in his own store didn't help Barnes and Noble stock after the lackluster report.
Barnes and Noble did show some growth in its College segment. Revenue for the College division rose 2.4 percent versus a year ago to $226 million during a quarter that did not include back-to-school shopping. But, for full year guidance, the company said it expects declines in all of its units. Retail store sales are expected to decline in the single high digits, while college store sales are forecasted to begin falling as well.
Overall, Barnes and Noble has had a rough quarter. CEO William Lynch left the company at the beginning of July, leaving Huseby to fill in as president until a successor is chosen. Lynch's departure led to a flurry of speculation that the company would split up and possibly sell its Nook unit to Microsoft (NASDAQ:MSFT). A spin-off was seen as one of the only hopes left for the last remaining large chain bookseller, but now that Riggio has said he isn't interested in buying the retail division, a split up is looking much less likely.
Follow Jacqueline on Twitter @Jacqui_WSCS
Don't Miss: These 8 Giants Are Dominating Web Traffic This Summer.