Behind the Scenes: Apple's New iPhones

While most industry watchers are already aware that Apple's (NASDAQ:AAPL) iPhones are assembled in China-based factories, fewer know about the complex shipping process that delivers iPhones to consumers around the world. However, an exclusive new report from Bloomberg provides a rare behind-the-scenes glimpse at the logistics of Apple's iPhone distribution process.
After the iPhones are assembled, loaded with software, and packaged, the finished products are carefully secured in unmarked shipping containers. These containers are then escorted by security teams to various prearranged airfreight flights that are bound for Apple Stores and other retail locations around the world. The timing of these shipments is especially crucial when Apple debuts a new iPhone model since the company typically sees a large increase in sales around each product premiere.
Although Apple tries to forecast how many units will be needed in each market, the destination of any particular shipment of iPhones my change based on the specific demands of individual markets around the world, according to Bloomberg's insider sources. Fortunately, since Apple uses aircraft to ship its devices, iPhones can usually be quickly rerouted to markets where the demand is greatest.
Otherwise, a lack of iPhones in a market where demand is high can result in millions of lost sales for the Cupertino-based company. In this sense, the iPhone delivery process is almost as important as the iPhone development process.
"People like to talk about how the key to Apple's success is their products. While I agree with that, their operational capabilities, and their ability to scale and bring new products to market efficiently, are unprecedented and a huge competitive advantage," noted former Hewlett-Packard (NYSE:HPQ) executive Mike Fawkes via Bloomberg.
The logistics of this year's iPhone launch will be especially complex. For the first time, Apple is launching the new iPhone models in China at the same time it is launching the devices in the U.S. Apple also recently partnered with Japanese carrier NTT DoCoMo (NYSE:DCM). That deal could add millions of additional iPhone units to Apple's already massive distribution network.
Apple's iPhone 5C and iPhone 5S devices will hit store shelves in the U.S. and other markets on September 20. Here's how Apple closed out the trading week.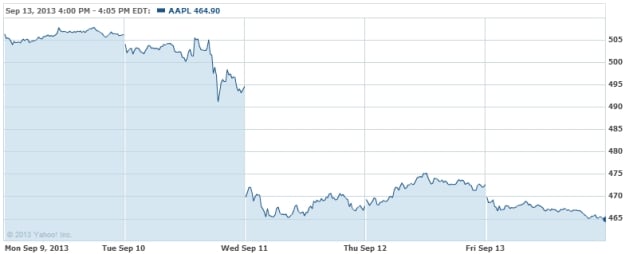 Follow Nathanael on Twitter (@ArnoldEtan_WSCS)
Don't Miss: Here Are the Details of Apple's Big Deal in Japan.