Best Buy Adds to Mixed Retail Picture
Retailers were expected to have a strong showing in the holiday period after logging a record-breaking Black Friday and Cyber Monday. However, recent reports indicate a mixed picture for the industry. On Friday, Best Buy (NYSE:BBY) added to the confusion.
The Minneapolis-based retailer announced holiday revenue results. For the nine weeks ended January 5, 2013, revenue came in at $12.8 billion, representing a 0.4 percent decline from the $12.9 billion a year earlier. Revenue in the company's International segment increased 2.2 percent, but the Domestic segment posted a 1.2 percent decline.

Overall, comparable store sales for the holiday period declined 1.4 percent. Same-store sales were flat in the United States, but International stores dropped 6.4 percent. With the popularity of mobile phones and tablets from companies such as Apple (NASDAQ:AAPL) and Samsung, Best Buy said comparable store sales were positive in those devices. Sales in entertainment, televisions and computing declined. The International segment was affected by declines in Canada and China.
Best Buy names priorities…
Start 2013 better than ever by saving time and making money with your Limited Time Offer for our highly-acclaimed Stock Picker Newsletter. Get our fresh Feature Stock Pick now!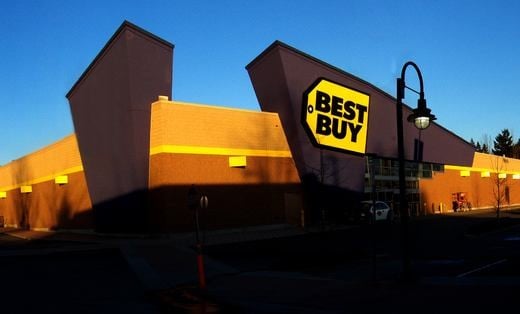 "One of the first priorities of our Renew Blue strategy is to stabilize and then begin improving our comparable store sales. During the most important period in the retail calendar – the holiday sales season – we were able to improve our Domestic comparable store sales trends compared to the performance of the last several quarters and continue our strong traffic growth in our online business. Our holiday selling strategy, backed by a compelling assortment, increased employee training and price match policy, allowed us to deliver these results," said Best Buy President and CEO Hubert Joly in a press statement. "While it will be a journey with ups and downs, we are focused on becoming an increasingly effective multi-channel retailer and engaging with the tens of millions of consumers who shop us online and in-store," Joly added.
On the positive, the company notes that ComScore, a leader in measuring several aspects of the digital world, ranked Best Buy as the third most popular retail website for Thanksgiving and Black Friday. It was behind Amazon.com (NASDAQ:AMZN) and Wal-Mart (NYSE:WMT), but ahead of Target (NYSE:TGT), which just announced a price matching strategy to challenge the retail industry. Experian also ranked Best Buy as the number three website on Cyber Monday with 9.3 million visits. Overall, Best Buy's U.S. online channel delivered revenue of $1.1 billion, up 10 percent from the prior year.
Shares go on a wild ride…
It has been a sobering time of the year for many retailers. According to Retail Metrics, the number of stores lowering quarterly earnings per share guidance outnumbered companies raising outlooks by 7 to 2. The recent report from Best Buy added to concerns and sent shares falling more than 2 percent in premarket trading. Due to timing changes in accounts payable, the company also lowered the actual amount of free cash flow to $500 million for fiscal year 2013.

However, Best Buy said gross margin, earnings and inventory levels continue to be in line with assumptions that supported its prior free cash flow guidance of $850 million to $1.05 billion, made in November. After the brief dip in premarket hours, shares recovered losses and surged more than 12 percent, making it one of the top performers in the S&P 500.
Investor Insight: Apple Chart of the Day: The iPhone Leads the Way