Best Buy Shows Retail Is Reviving, Barnes & Noble Continues Descent: Market Recap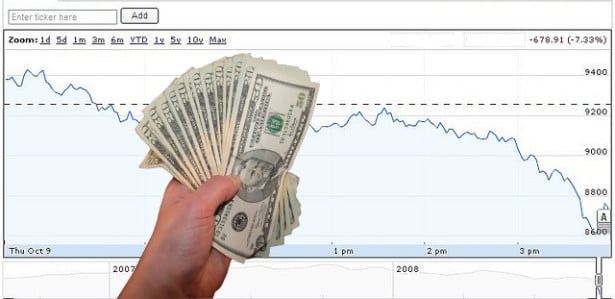 U.S. stocks rose today, breaking a four-day losing streak for the S&P 500, upon positive retail earnings from Best Buy (NYSE:BBY) and a raised stock rating for Urban Outfitters (NASDAQ:URBN), both of which are some evidence that the American consumer is still alive and well. Many economists believe the Federal Reserve will begin curbing stimulus next month, but investors are waiting for more hard evidence that the economy has improved enough for the central bank to make that decision.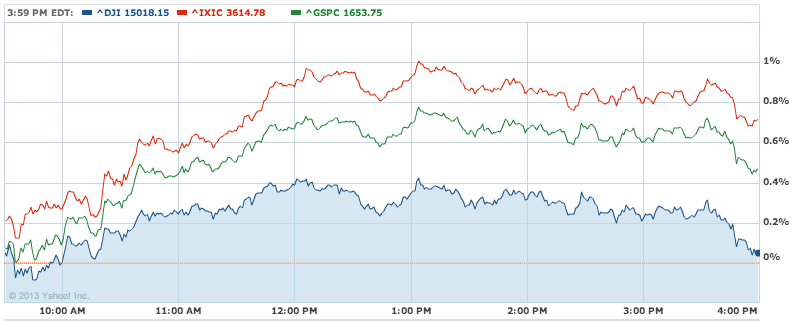 Gold: +0.38% to $1,370.90 per ounce Oil: -2.04% to $104.92 per barrel U.S. 10-Year: -2.43 to 2.814%
How Will the Next Chairman Approach Fed Policy?: Ben Bernanke's second term as Chairman of the Federal Reserve will end in January and word on the street is that he will not seek (or be offered, depending how you look at it) a third term. This means that for the first time since 2006, the position — one of the most powerful policy posts in the world — is up for grabs.
Wall Street Worries the 'Wal-Mart Effect' Is Spreading: Modest improvements in the job market and increasing household wealth, which is the result of higher home values and higher stock market returns, have given some American consumers the confidence to spend. That is good news for the economy, because consumer spending accounts for approximately 70 percent of the country's gross domestic product.
Detroit's Bankruptcy: Unconstitutional or Just Complicated?: The risk-versus-reward aspect of the market's quest for returns may be the thing that gets it into the most trouble. In many ways, failure to wield this double-edged sword with sophistication contributed to the fallout from the Detroit bankruptcy filing.
Here's your cheat sheet to today's top stocks stories: 
Apple's (NASDAQ:AAPL) competition is looking to steal some of the spotlight away from the new iPhone. The iPhone 5S is set to be launched on September 10 — and Apple rivals Sony (NYSE:SNE) and Samsung (SSNLF.PK) are preparing to unveil their own new products before the new iPhone's release.
Barnes and Noble (NYSE:BKS) reported earnings that were expectedly disappointing on Tuesday morning, sending the company's stock tumbling 12 percent by the time the market closed. The company's fiscal first quarter revenue fell 8.5 percent to $1.3 billion, coming in just below analyst estimates of $1.32 billion.
Best Buy (NYSE:BBY) hit the ground running Tuesday after reporting fiscal 2014 second-quarter results that beat analyst expectations. Revenue fell 11.8 percent on the year to $9.3 billion, beating the average analyst estimate of $9.13 billion. Adjusted earnings increased 23 percent to 32 cents per share, beating the average analyst estimate of 12 cents.
TJX Companies (NYSE:TJX), owner of TJMax discount retail stores, posted earnings that beat expectations and helped restore faith in the American consumer. The company reported earnings per share of 66 cents, beating the average estimate of 63 cents. Revenue rose 8.36 percent to $6.44 billion, beating forecasts of $6.37 billion.
Home Depot (NYSE:HD) was boosted by the ongoing recovery in the domestic housing market. Home Depot raised its quarterly profit and sales above estimates, encouraging the giant home improvement chain to elevate its outlook for the fiscal year. The company also posted its first double-digit rise since 1999 in sales at stores open a minimum of a year and saw its highest quarterly transaction count in its history, according to Chief Executive Frank Blake on Tuesday.
Don't Miss: These 8 Giants Are Dominating Web Traffic This Summer.
Follow Jacqueline on Twitter @Jacqui_WSCS