Best Buy's Aggressive iPhone Deal, Google Asks for Appeal: Market Recap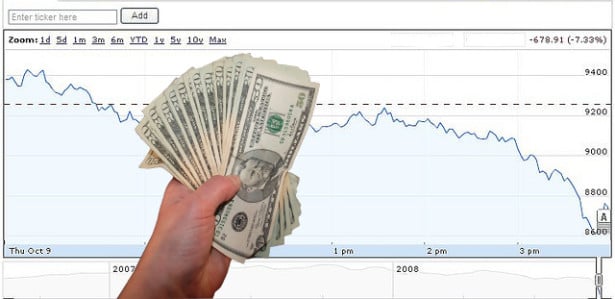 U.S. stocks rose during trading on Thursday to rally the most since January on optimism that lawmakers are close to reaching an agreement on the budget and erasing anxiety that the country would default on its debt. The S&P 500 and the Dow both climbed 2.2 percent. All except 12 members of the S&P 500 rose, the broadest gains on the index for the year. House Republicans proposed a short-term increase in the debt ceiling that will not end the partial government shutdown, but will extend U.S. borrowing authority to November 22 from October 17.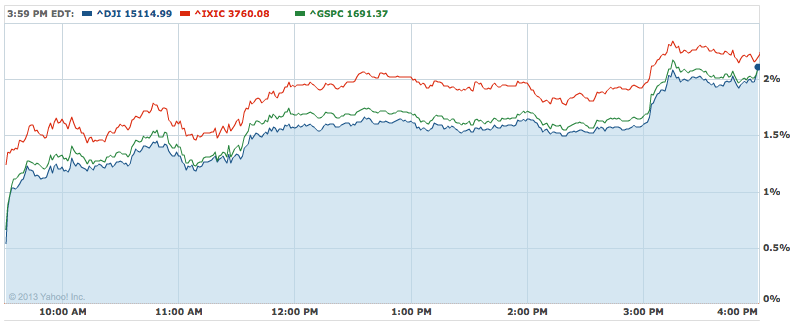 Gold: -1.55% to $1,287.00 per ounce Oil: +1.31% to $102.94 per barrel U.S. 10-Year: +1.32 to 2.68%
Government Shutdown Helps Jobless Claims to 6-Month High: Thanks to a huge backlog of applications in California and the government shutdown, initial claims for unemployment benefits spiked in the week ended October 5, increasing by 66,000 to a seasonally adjusted 374,000 — a six-month high.

Here's Why President Obama Won't Negotiate with the GOP: Standing on the outside, Washington looks something like the Western Front in World War I. Two deeply entrenched and bitterly divided sides, immune to each others' small-arms fire and only bruised by direct hits from artillery. Democrats and Republicans, locked together in an awkward fiscal death dance by a bureaucratic Gordian knot, have found themselves in a type of brinksmanship in which the defense has the advantage, and as a result neither appears willing to move first.
Will Fiscal Headwinds Derail the Fed's Economic Forecasts?: The U.S. Federal Reserve surprised markets on September 18 when it announced that it was not, in fact, tapering asset purchases, despite months of consensus speculation to the contrary. The Federal Open Market Committee voted to continue purchasing $40 billion worth of agency mortgage-backed securities and $45 billion worth of longer-term securities per month.
Here's your cheat sheet to today's top stocks stories:
T-Mobile (NYSE:TMUS) has announced a new partnership with Latina pop star Shakira to promote T-Mobile's new Simple Global plan, which offers unlimited global data and texting in 100 countries to qualifying customers at no extra charge. Shakira performed to a crowd of 7,500 at Bryant Park in New York on Wednesday to kick off the T-Mobile collaboration.
Best Buy (NYSE:BBY) has upped the ante in the increasingly competitive iPhone pricing showdown between Apple's (NASDAQ:AAPL) iPhone retailers. According to an internal Best Buy company document obtained by TechnoBuffalo, Best Buy will soon be offering customers a minimum $100 gift card for any working smartphone that they trade in to purchase one of Apple's new iPhones.

McDonald's (NYSE:MCD) is good at making Happy Meals, but what about happy parents? McDonald's, known for its expertise in flipping fat-packed burgers and fried potatoes, has long been under fire for its unhealthy fare and links to childhood obesity, but now McDonald's is working to boost its appeal to parents and consumers by promising to package children's books in its Happy Meals.
Google (NASDAQ:GOOG) is seeking to appeal a ruling that it broke wiretapping laws when Google scanned and read Gmail users' personal emails in order to promote advertising and build user profiles. According to a report from Bloomberg, Google has asked U.S. District Judge Lucy H. Koh in San Jose to allow a higher court to review her "novel" interpretation of the wiretapping law.
Boeing's (NYSE:BA) highly anticipated Dreamliner 787s are having trouble staying in the air. The Chicago, Illinois-based Boeing has been wracked with disappointment ever seen its technologically-advanced jetliners were grounded earlier this year, and now, five months since hitting the runway, Boeing's Dreamliner problems continue to drag on as more and more airlines cite differing issues with the planes that force them to take the 787s out of operation.
Amazon.com Inc. (NASDAQ:AMZN), following in the steps of eBay's (NASDAQ:EBAY) PayPal and Facebook (NASDAQ:FB), has developed its own online payment service that allows consumers to log in to various e-commerce sites with their Amazon credentials and make purchases without the need to repeatedly type in payment and shipping information.
Follow Jacqueline on Twitter @Jacqui_WSCS
Don't Miss: 5 Movie Trailers Making Waves This Week.