Bill Gunderson: Stay Away From Apple!
Apple (NASDAQ:AAPL) is dead money for now, according to Gunderson Capital Management chief executive Bill Gunderson, who recommends staying out of the stock until its charts turn healthy again. The investment specialist believes Apple remains in a downtrend and is still searching for its bottom.
According to Gunderson, while in the past Apple's stock had always recovered after a bout of profit taking and marched on to new highs, this time is turning out to be different. "Even though Apple's three-, five- and 10-year performance is still superior … short-term performance record has been shattered," Gunderson wrote in an analysis for MarketWatch. "The stock's short-term performance started turning sour back in October of last year and has only gotten worse since then."
Gunderson does not deny that there are some clear positives while analyzing Apple as a company and the stock looks good from a valuation point of view. "When I extrapolate the current earnings estimates out over the next five years at 13.7 percent per year and apply a reasonable multiple, I come up with a five-year target price of $853," Gunderson wrote. "Along with the dividend, the stock has 98.7 percent upside potential, which is very good."
However, he adds, the company's earnings estimates and price target have come down drastically in the last few months and earnings momentum is contracting.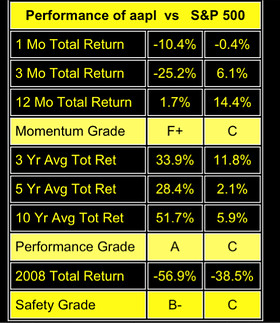 While he gives the stock an overall A grade when it comes to valuation, its momentum grade, according to Gunderson's criteria, comes in at F+ and safety grade at B-. Overall, he grades the stock at B. I only buy stocks that earn an overall grade of A- or better and are ranked in the top 200-300 overall," he wrote. "Apple falls far short of this. Apple is dead money for now."
Don't Miss: Will This Make Apple's Stock Shine Again?