BlackBerry Considering Its Options, Even the Auction Block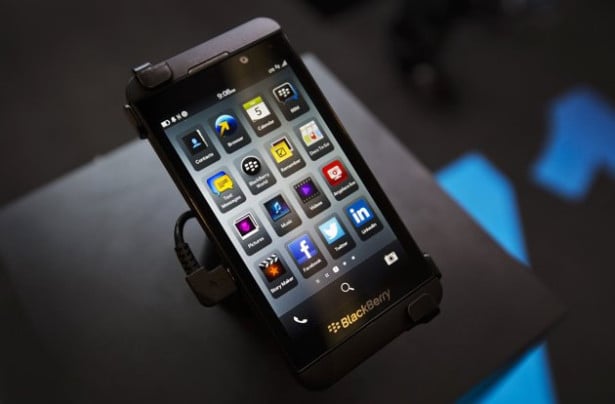 The maker of the once iconic BlackBerry (NASDAQ:BBRY) smartphone announced in a Monday press release that it will begin exploring "strategic alternatives to enhance value and increase scale in order to accelerate BlackBerry 10 deployment." The statement, released before the markets opened, explained that a special committee has several options to consider: joint ventures, partnerships, asset sales, and even a sale of the company itself. Timothy Dattels, an investment banker and former Goldman Sachs (NYSE:GS) executive, will chair the new committee, which will include Blackberry Chief Executive Thorsten Heins as well.
BlackBerry has struggled to compete in the difficult smartphone market. The company arguably invented the smartphone with its BlackBerry, and the device dominated the market for several years after its release in 2003. But with the launch of more complex devices, like Apple's (NASDAQ:AAPL) iPhone and handsets run on Google's (NASDAQ:GOOG) Android, the BlackBerry's share of the worldwide smartphone market dropped from 20 percent in 2009 to just 5 percent last year.
The smartphone maker's decline is a familiar story, and so Monday's announcement is not all that surprising. What is surprising is that just a few months ago all the company's actions indicated that it was committed to moving forward with its new platform, BlackBerry 10.
The company meant for BB10 and its two new devices — the touch screen Z10 and the Q10, with the mini keyboard favored by many traditional BlackBerry users — would help it carve out a larger foothold in the smartphone market. The first quarter was supposed to be BlackBerry's first opportunity to prove that it was making a comeback.
However, the company's struggle to compete against the iPhone and Samsung's (SSNLF.PK) Galaxy line of smartphones resulted in a loss of 13 cents per share on sales of $3.1 billion. When it reported these first-quarter results, the company also forecast a loss for the current quarter, which caused shares to plummet.
As the company's new handsets have failed to gain traction, shares had fallen close to 18 percent this year through Friday's close. When the news that BlackBerry was considering "strategic alternatives" reached the market Monday, shares jumped up as much as 9.4 percent in premarket trading.
"During the past year, management and the Board have been focused on launching the BlackBerry 10 platform and BES 10, establishing a strong financial position, and evaluating the best approach to delivering long-term value for customers and shareholders," said Dattels in the press release. "Given the importance and strength of our technology and the evolving industry and competitive landscape, we believe that now is the right time to explore strategic alternatives."
As for the chief executive, Heins said the committee still sees compelling long-term opportunities for the BlackBerry 10. While the committee's review of possible options is executed, BlackBerry will continue to implement a cost-cutting initiative that has already shrunk the company noticeably.
Rumors that Blackberry was considering a leveraged buyout or going private began last year, when Dattels was first appointed to the board of directors. His nomination in June 2012 followed closely behind the company's decision to hire JPMorgan and Capital Markets to help it evaluate possible new business strategies, which included an overhaul of its operations. The speculation was given new life last week, after Reuters quoted sources who said that BlackBerry was considering going private so that its turnaround plans could be launched away from the pressure of Wall Street.
Some analysts see the possibility of a turnaround unlikely. After all, BlackBerry's new line of high-end phones were introduced into an already saturated market. Recently, Samsung reported results that fell short of expectations, while in April, Apple reported its first quarterly profit decline in more than 10 years. Furthermore, at the mid- to low end of the market, competition is even fiercer, with Chinese manufacturers Huawei Technologies and ZTE (ZTCOF.PK) scooping up market share rapidly.
"While a change in structure could result in a higher stock price in the near term, we do not envision any changes that would help BlackBerry reverse the significant smartphone share loss or rapid decline in service revenues," BMO Capital markets analyst Tim Long told Reuters.
Follow Meghan on Twitter @MFoley_WSCS
Don't Miss: Is Apple Getting Ready to Put on a Show?