BlackBerry Could Be in for a Messy Breakup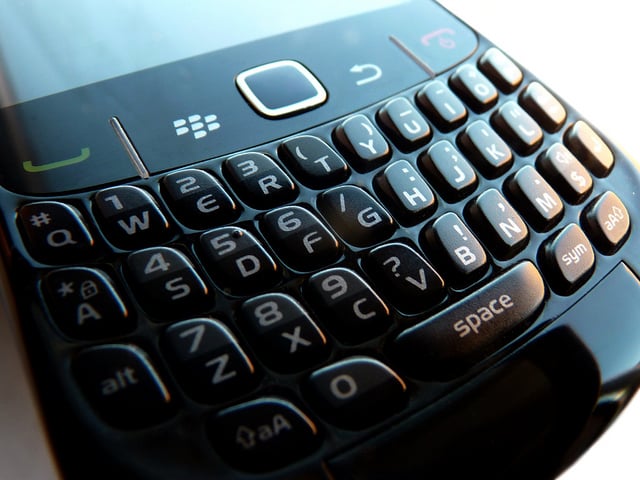 In BlackBerry's (NASDAQ:BBRY) perfect world, the smartphone company would be able to compete with the now rigid competition put forth by Apple (NASDAQ:AAPL) and Samsung (SSNLF.PK). In that world, even if BlackBerry couldn't keep up, it would be able to sell its whole package — hardware, assets, software, and patents — to one acquirer for one price.
But it's not BlackBerry's perfect world. In fact, it is probably the company's borderline nightmare, but the Waterloo, Ontario-based smartphone maker can't seem to wake up no matter how hard it tries, and now, it looks like BlackBerry's assets may go piece by piece.
When the once-popular smartphone company posted its earnings result at the end of June, investors and analysts all but gave up hope. BlackBerry was pinning its comeback effort on its new line of BlackBerry 10 devices, and when that last-ditch effort failed, it became all the more obvious that the Canadian company either needed to sell or establish some new partnerships.
BlackBerry hasn't been shy about its efforts to analyze a sale or new partnerships. According to Bloomberg, the company assembled a group of board members last week to strategize BlackBerry's next big move, but unfortunately for the smartphone giant, it's starting to become all too clear that its assets, software, and patents will likely be sold separately — and its phone unit will then be left for the dogs.
It's undoubtedly a shame for BlackBerry, whose whole package may be worth about $5 billion and its phone unit valued at as much as $800 million. That hardware used to be the thing to have when BlackBerry was at its prime and all smartphone users crowded BlackBerry stores, but now that users recognize the company's doomed fate, neither consumers nor private-equity firms want anything to do with the device.
Acquirers are more likely to buy BlackBerry's other assets, which analysts estimate are each worth about $1 billion. Even though the Canadian company would rather the business be sold in its entirety, it are quickly beginning to understand the unlikelihood of that.
Bloomberg highlights Brian Huen, managing partner at Red Sky Capital Management, explaining BlackBerry's dilemma, saying: "You're effectively killing that business by saying 'I'm up for sale.' Nobody is interested in buying the entire entity. I think they are now in the phase of saying, 'We will do anything to maximize value, including breaking up the company.'"
BlackBerry has had to sustain many changes as it continues to move forward with its restructuring or reorganization plan. Two high-profile executives departed shortly after the company's poorer-than-expected earnings report, and Prem Watsa, BlackBerry's largest shareholder, also recently said he would be stepping down from the board.
CEO Thorsten Heins has been notably quiet about much of BlackBerry's sale negotations, but he seems to have submitted to the fact that many acquirers are likely planning on "[transitioning] BlackBerry's subscriber base to its own competing smartphone products or ecosystem," which Michael Walkley, analyst at Canaccord Genuity, pointed out as a viable option at Bloomberg.
And even though the company has no doubt hit a low point, it's still important to remember what it is worth and the significant number of assets and patents it still maintains. Not only does BlackBerry have about $2.8 billion in cash, but it also has smartphone patents, car-information operating systems, nuclear power plants, and a network of secure servers.
Thus, BlackBerry is most definitely not at its peak, but it still had around 72 million smartphone subscribers at the end of June — and that is something that analysts recognize. Many high-profile analysts like Tim Long at BMO Capital Markets rates BlackBerry a hold, along with those at Raymond James Ltd. Walkley rates BlackBerry a sell.