BlackBerry Fails Again, Vodafone-Verizon Deal Is Official: Market Recap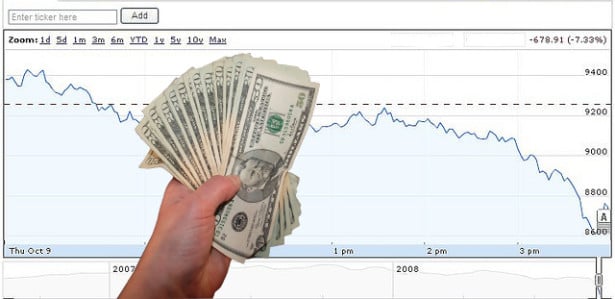 U.S. stocks rose today on positive economic data showing that construction spending and manufacturing increased in July and August, respectively. The U.S. stock market was closed yesterday in observance of Labor Day, but global stocks rose on positive manufacturing data from China.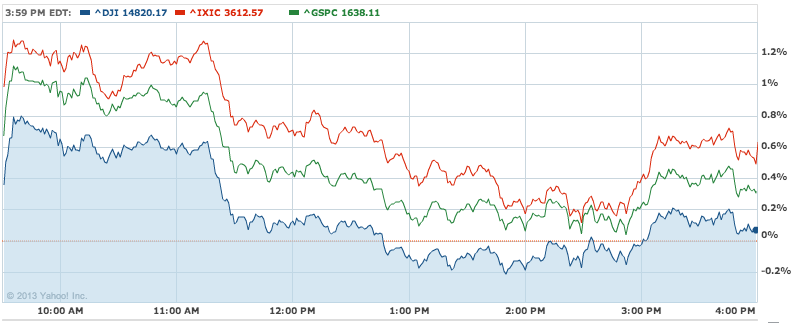 Gold: +1.17% to $1,412.40 per ounce Oil: +0.82% to $108.53 per barrel U.S. 10-Year: +3.60 to 2.848%
Despite Modest Recovery, Manufacturing Employment Is Struggling: The Manufacturing Report on Business, compiled by the Institute for Supply Management, showed a modest improvement in manufacturing conditions in the United States in August. The overall Purchasing Managers' Index increased from 55.4 to 55.7, indicating expansion of manufacturing activity at a faster rate than in July.
Gallup: Consumer Spending Back on Track: Americans' self-reported daily spending for the month of August was the highest Gallup has measured in any month since the $99 reading in September 2008. Rising to $95 from $89 in July, consumer spending finally broke through the three-month long period in which Gallup's spending measure remained generally unchanged, a phenomenon that indicated to economists that consumers were generally keeping purchases to their immediate necessities.
Healing Housing Market Fuels Construction Spending in July: Construction activity in the United States continued to gain steam in July, according to the U.S. Census Bureau. The seasonally adjusted value of construction put in place increased 0.6 percent on the month and 5.2 percent on the year to an annual rate of $900.8 billion, beating expectations for a more modest increase of 0.3 percent on the month and 4.7 percent on the year.
Here's your cheat sheet to today's stock stories: 
Nuance (NASDAQ:NUAN), the speech recognition technology company that powers Apple's (NASDAQ:AAPL) Siri, recently saw activist investor Carl Icahn increase his stake to 16.9 percent, meaning he could push for an acquisition. Such a thing would be of dubious value to Apple with nearly 50 percent of Nuance's revenue coming from applications within the health care industry. Rumors related to this idea began propagating when Icahn changed from a 13G to a 13D filing for his position in Nuance.
Time Warner Cable (NYSE:TWC) customers who suffered the consequences of a month-long CBS (NYSE:CBS)-blackout got good news for Labor Day: the two conflicting parties have finally reached an agreement. According to USA Today, CBS confirmed Monday that its summer-long dispute with pay-TV provider, Time Warner, has officially ended and an agreement has been signed.
Vodafone (NASDAQ:VOD) has officially agreed to sell its 45 percent stake in U.S. wireless carrier Verizon Wireless to Verizon Communications (NYSE:VZ) for $130 billion. According to the companies' press release, the deal was unanimously approved by members of both boards, but it still has to be approved by regulators and shareholders. The companies said they expect the deal to close in the first quarter of 2014.
Microsoft (NASDAQ:MSFT) already designs the software that runs the majority of Nokia's (NYSE:NOK) smartphones, so analysts had predicted it would make sense for the Windows Phone developer to purchase the entire handset division from the Finnish mobile phone manufacturer. Late on Monday evening, Microsoft announced that it will purchase substantially all of Nokia's Devices & Services business, license the company's patents, and license and use of its mapping services for about $7.2 billion.
BlackBerry (NASDAQ:BBRY) did it again. It played with our hearts and rolled out another poor-selling phone. That would be the BlackBerry Q10, the Canadian company's last-ditch effort to launch a phone that could effectively take on Apple and Samsung Electronics' (SSNLF.PK) popular offerings and land the smartphone maker back in the driver's seat.
Bank of America (NYSE:BAC) has announced that it is selling off its remaining shares in China Construction Banking (CCB), the second biggest lender in China. Bank of America has offered a slight discount on the 2 billion shares, reportedly offering a price of between 5.63 Hong Kong dollars and 5.81 Hong Kong dollars per share (slightly less than $0.75 per share), compared to the market price of 5.93. The deal could generate as much as $1.5 billion for Bank of America
Follow Jacqueline on Twitter @Jacqui_WSCS
Don't Miss: A Flop New Phone Is BlackBerry's Latest #Fail.