BlackBerry Gets More Bidders, Ford Clings to Mulally: Market Recap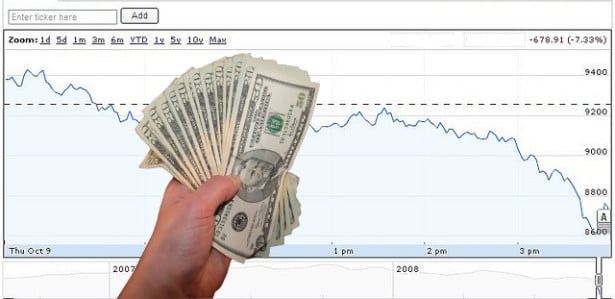 U.S. stocks fell during trading on Monday as investors are becoming increasingly concerned that lawmakers won't reach an agreement on the budget and the U.S. will consequently default on its debt. The Congressional Budget Office has said that lawmakers have until the end of the month before the country will become unable to pay its bills. If the government doesn't allow the country to default on its debt, analysts are expecting the impact of the partial shutdown to be minimal.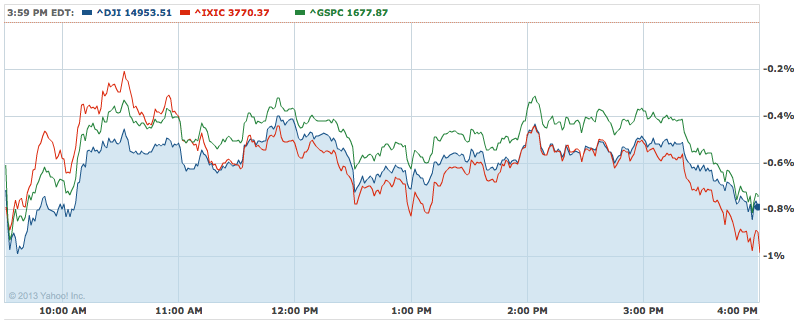 Gold: +0.95% to $1,322.40 per ounce Oil: -0.07% to $103.11 per barrel U.S. 10-Year: -0.59 to 2.011%
Gallup: Government Shutdown Is Already Hurting Consumer Spending: At $95, Americans' self-reported daily spending for the month of August was the highest Gallup has measured in any month since a $99 reading in September 2008. However, last month, the measure slipped to an average of $84 — the lowest monthly figure since February.

In the Polls: Republican Popularity Falls as Blame Rises: Senator Ted Cruz (R-Tex.) has been named the chief strategist behind the government shutdown, with Obamacare and the spending bill at its heart. Though Cruz believes his efforts haven't left the Republican party with a black eye, the numbers don't stand behind Cruz's claims. Based on recent polls, the shutdown is not treating the Republican party well in terms of public opinion.
Key Inflation Indicator Goes Negative, But Don't Panic: There was an interesting nugget of data buried deep in the GDP report from the Bureau of Economic Analysis: The rate of change of the deflator for personal consumption expenditures fell to an annual rate of  -0.1 percent from the 0.0 percent rate reported earlier.
Here's your cheat sheet to today's top stocks stories:
Berkshire Hathaway (NYSE:BRKA)(NYSE:BRKB), led by Chairman and CEO Warren Buffett, has profited generously from the financial crisis of the late-2000s. During a period in which trillions of dollars of household and corporate wealth evaporated into a nebulous cloud of financial fairy dust and credit pipelines froze, Berkshire opened its wallet and lent tens of billions of dollars. The advantage of lending when nobody else wants to is that you can charge pretty much whatever you want, and Buffett's Berkshire took full advantage of the situation to make sure he would get a healthy return on his investment.
BlackBerry (NASDAQ:BBRY) is on the market following the failure of what many analysts believed was their last shot making ground, and it appears as though BlackBerry has some high-profile companies expressing interest in the Canadian-based company. Citing unidentified sources close to the matter, Reuters reports that Cisco Systems Inc. (NASDAQ:CSCO), Google Inc. (NASDAQ:GOOG), and SAP AG (NYSE:SAP) have been in talks with BlackBerry regarding purchasing parts or all of the company.
Amazon.com Inc. (NASDAQ:AMZN) announced Monday that 6,000 more workers will soon be employed by the world's largest e-commerce company, and this time, Amazon is looking to pull from the European labor pool. Amazon is now planning to open three new logistics centers in Poland in the next couple of years.
Ford (NYSE:F) maintains that CEO "Alan [Mulally] is focused on continuing to execute the One Ford plan," company spokesman Jay Cooney told Bloomberg on Monday. "Nothing has changed from what we announced in November." Ford does not have a contract with Mulally. Last November, when it was announced that the CEO planned to stay on through 2014, he said his contract was "a very firm handshake with the chairman."

Apple (NASDAQ:AAPL) has added several new "Tips and Tricks" sections to its website in what could be a sign of widespread user confusion over Apple's latest mobile operating system. The newly added sections provide Apple iPhone users with quick overview of how to use various features found in iOS 7 on the iPhone 5S, iPhone 5C, and iPhone 4S.
Yum Brands' (NYSE:YUM) bottom line is expected to be hurt by continuing slow sales in China when the company reports its fiscal third quarter earnings tomorrow, according to analysts. Yum, which owns Kentucky Fried Chicken and Pizza Hut, among other fast food chains, has been investing heavily in China in the past five years, but in 2012, Yum's China strategy started to weaken.
Follow Jacqueline on Twitter @Jacqui_WSCS
Don't Miss: Are These Companies in Talks to Purchase BlackBerry?