BlackBerry Is Bringing Back the Keyboard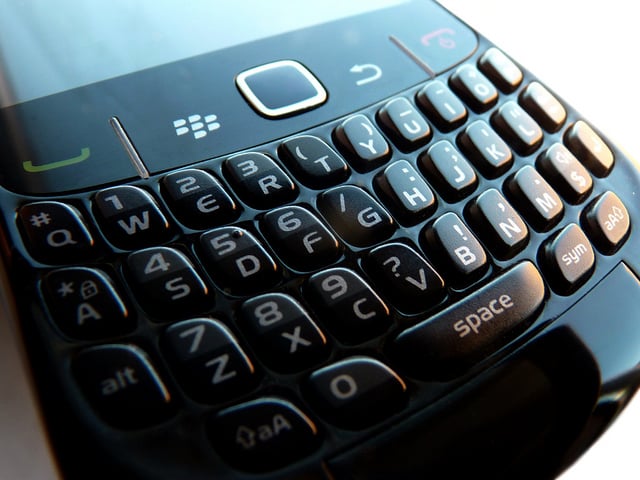 BlackBerry (NASDAQ:BBRY) is returning to the feature that made its devices popular under new CEO John Chen, who said at the Consumer Electronics Show in Las Vegas on Monday that BlackBerry will soon return its focus to making full keyboard smartphones, according to a report from Bloomberg. The company's BlackBerry 10 line of touch-screen phones performed terribly, caused massive write-downs, and led the company to consider selling itself. In November, BlackBerry announced that it was canceling those plans and would instead undergo a massive turnaround with a new Chief Executive.
Now, the pressure is on Chen to pull off a turnaround that has left many skeptical. A key aspect of his restructuring is shifting BlackBerry's focus away from consumers and towards the business customers that have long preferred the brand. Corporate clientele loved the full keyboard on BlackBerry devices because it made it easier to type out long emails while on the go.
"I personally love the keyboards," Chen said in an interview with Bloomberg TV on Monday. Chen went on to say that BlackBerry's long-term plan is to return to making phones with keyboards. Chen has restructured the company into new operating units that bring the company's remaining strengths to the forefront of its operations; Enterprise Services, Messaging, QNX Embedded business, and the Devices business.
BlackBerry's new business structure involves a heavier focus on its enterprise services, which is the company's most successful division. "When it comes to enterprise, we're still the leader. Don't be fooled by the competition's rhetoric claiming to be more secure or having more experience than BlackBerry," Chen said in an article written for CNBC last month.
At the end of the year, BlackBerry announced a partnership with Foxconn to manufacture and distribute BlackBerry devices, particularly in emerging markets. Chen said that the first phone made through the Foxconn partnership will be touch-screen, but after that the companies will focus on keyboard phones.
BlackBerry is so protective of its monopoly on the smartphone keyboard that it's suing a start-up called Typo Products, which has made a BlackBerry-like keyboard attachment for Apple's (NASDAQ:AAPL) iPhone. The keyboard was developed to make typing on the iPhone quicker, as well as to reduce the likelihood of typos compared to the phone's built-in touchscreen keyboard. BlackBerry accuses the company of infringing on its patents.
More From Wall St. Cheat Sheet:
Follow Jacqueline on Twitter @Jacqui_WSCS