BlackBerry Is Hurrying Its Sale, McDonald's is Killing Its Dollar Menu: Market Recap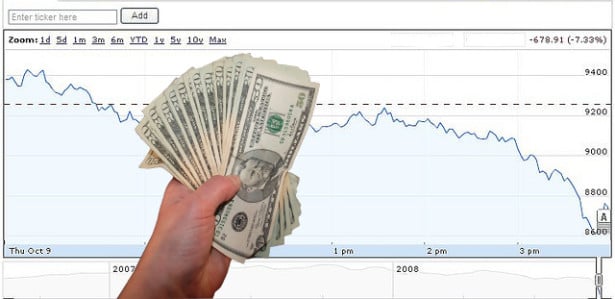 U.S. stocks rose today as investors wait on the Labor Department's monthly jobs report to be released tomorrow. Separate data on the labor market released today showed that fewer Americans filed for unemployment last week than had been expected and payrolls increased 176,000 in the month of August. Many are looking to the Labor Department's report as an indiction if the Fed will start curbing stimulus later this month.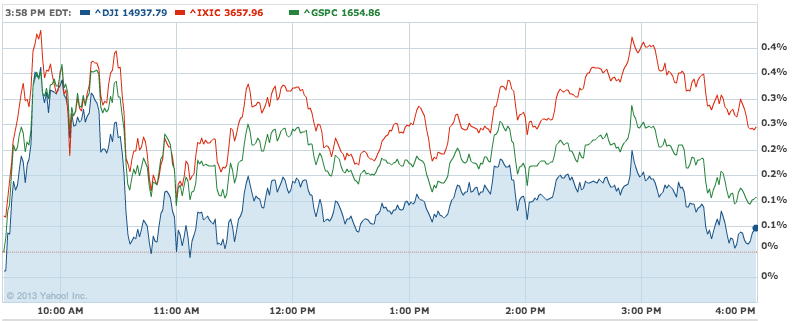 Gold: -1.55% to $1,368.50 per ounce Oil: +1.04% to $108.35 per barrel U.S. 10-Year: +2.83 to 2.979%
G-20 Summit: These Economic Issues Are Hot-Button Topics: One topic on everyone's mind is taking steps to mitigate the effects of the looming end of the U.S.'s quantitative easing policy. After Chairman of the Federal Reserve Ben Bernanke announced that rollbacks to quantitative easing were likely to be discussed at the Fed's meeting later this month, many investors have pulled back on or totally exited their projects in many emerging countries.
Jobless Claims Are Dropping, But What About Hiring?: Policy makers and economists are combing through August's jobs data with one key question in mind. Has the labor market improved substantially? A brief perusal of the Department of Labor's weekly reports on initial claims for unemployment benefits for the past four weeks suggest that job gains will be much stronger in the month of August.
Are August Employment Gains Just What the Fed Wanted?: According to Moody's Analytics chief economist Mark Zandi, whose firm helps compile the ADP National Employment Report, "it is steady as she goes in the job market." While the 176,000 jobs that United States employers added to their payrolls in the month of August were slightly lower than the 198,000 jobs added in July, last month's additions fell roughly in line with the average monthly increases experienced over that past two years.
Here's your cheat sheet to today's top stock stories:
BlackBerry's (NASDAQ:BBRY) sale is becoming more and more imminent and now, according to The Wall Street Journal, analysts are expecting the auction process to wrap up as early as November. It's been a rocky summer for the Canadian smartphone company that once held the status of world's largest smartphone maker.
Apple (NASDAQ:AAPL) has been lining up exclusive advertising deals in preparation for the release of iTunes Radio on Tuesday, Ad Age reports. The Cupertino, California-based company has granted exclusive iTunes Radio advertising rights to several companies. McDonald's (NYSE:MCD), Nissan (NSANY.PK), Pepsi (NYSE:PEP), and Procter & Gamble (NYSE:PG) have paid in excess of $10 million for the privilege of advertising on iTunes Radio through the end of 2013.
Microsoft (NASDAQ:MSFT) announced on Wednesday that the Xbox One will be available November 22, just a week after Sony (NYSE:SNE) unveils its competing game console, the PlayStation 4, in the U.S. On Thursday, a Microsoft executive told Reuters that the company has already sold out of the devices available for preorder.
McDonald's (NYSE:MCD) has been luring in customers with its famous value menu for over 10 years, offering burgers, fries, side salads, and more for only a pretty penny. But now, thanks to an evolving economy and increasing fast-food competition, the company is considering a revamp of its iconic menu, and pretty soon, McDonald's consumers could see their beloved Dollar Menu transform into "Dollar Menu & More," with emphasis on the "more."

Smithfield Foods's (NYSE:SFD) acquisition by Shuanghui International of China may receive approval from the U.S. government as soon as Friday, which is when the deal's 45-day trial from the Committee on Foreign Investment in the United States will conclude, according to a report from Politico.
J.C. Penney's (NYSE:JCP) was waiting for a ruling on a 10-year, $200 million deal with Martha Stewart Living Omnimedia (NYSE:MSO) that violated Macy's (NYSE:M) pre-existing, exclusive licensing deal with Martha Stewart, when CEO Mike Ullman "made the decision for the judge," a source briefed on the situation told the New York Post. "They definitely are not going to carry [Martha Stewart home goods] any longer and [they are] not waiting for the court ruling."
Follow Jacqueline on Twitter @Jacqui_WSCS