BlackBerry's Chen: In It for the Long Haul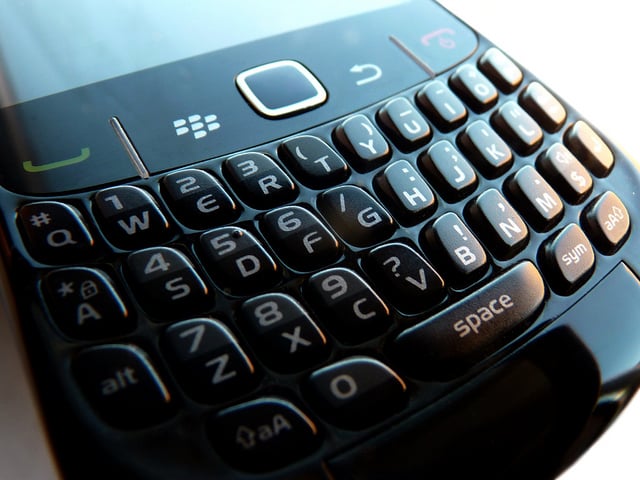 Aiming to shoot off the vultures circling over BlackBerry (NASDAQ:BBR) — the smartphone competitors attempting to attract new customers by by peddling false information about the company's supposed upcoming demise — its new Chief Executive Officer John Chen told customers in an December 2 open letter that "we are very much alive." This week, Prem Watsa of Fairfax Financial Holdings (FRFHF.PK), the company's largest shareholder, backed up that assertion by telling Reuters that Chen was committed to revamping the mobile phone maker. He is in it "for the long haul," Watsa said.
After attempting to execute a $4.7 billion offer to take BlackBerry private earlier this year, Fairfax Financial decided to take a lead role in a $1 billion note offering to provide the smartphone maker with money to fund the turnaround. In early November, when calling off its plans to go private, BlackBerry also changed chief executives, replacing Thorsten Heins with Silicon Valley veteran John Chen. In announcing his departure, Heins wrote that the Fairfax investment as a "vote of confidence in the future of BlackBerry."
Watsan made no pretense about BlackBerry's current position. "You never look back, you deal with the hand that you have, there's no use looking at whether you can get four aces or a flush, you deal with the hand that you have," he said. However, he was confident the CEO could turnaround the company's fortunes. "We think BlackBerry is an iconic company, an iconic brand, it's known worldwide. It's a company that deserves to exist and with John Chen it will." BlackBerry may be an iconic company, but over the past five years, shares of the company's beleaguered stock have lost more than 85 percent of their value. Shares have also lost 46.95 percent over the past 12 months and 48.36 percent since January.
BlackBerry has struggled to compete in the difficult smartphone market. The company arguably invented the smartphone with its BlackBerry, and the device dominated the market for several years after its release in 2003. At the time, it offered users something novel in the email age: the ability to be liberated from a desktop computer.
The BlackBerry spread like wildfire through the corporate world, and at its peak, the company formerly known as Research in Motion reached a market value of $70 billion in 2007. But with the launch of more complex devices, like Apple's (NASDAQ:AAPL) iPhone and handsets run on Google's (NASDAQ:GOOG) Android, the BlackBerry's share of the worldwide smartphone market dropped from 20 percent in 2009 to just 5 percent last year. It was the iPhone especially that transformed the smartphone from a corporate tool into a must-have consumer product.
The smartphone maker's decline is a familiar story, and so when the company announced in late September that it would be sold for $9 a share to a group led by Fairfax Financial Holdings, it was hardly surprising. What is surprising is that just a few months previous, all the company's actions indicated that it was committed to moving forward with its new platform, BlackBerry 10.
The company meant for BB10 and its two new devices — the touch screen Z10 and the Q10, with the mini keyboard favored by many traditional BlackBerry users — would help it carve out a foothold in the smartphone market. The first quarter was meant to be BlackBerry's first opportunity to prove that it was making a comeback. However, recent financial results indicated BlackBerry has a deep hole from which to dig itself out. The company reported a major net second-quarter loss of $965 million, or $1.84 a share, days after the acquisition was announced. Comparatively, BlackBerry lost $229 million, or 44 cents a share, in the year-ago quarter. The earnings report also showed that smartphone maker was burning cash.
"We are very disappointed with our operational and financial results this quarter and have announced a series of major changes to address the competitive hardware environment and our cost structure," then-CEO Thorsten Heins said in statement issued with the earnings report. "We understand how some of the activities we are going through create uncertainty, but we remain a financially strong company with $2.6 billion in cash and no debt."
BlackBerry's smartphone market share fell below 1 percent in the United States during the three months ended October 31, while both Google's Android and Microsoft's (NASDAQ:MSFT) Windows Phone gained traction: Android's domestic market share widened to 52.6 percent from 47.7 percent, and Windows rose to 4.8 percent from 2.5 percent. Apple's market share dropped to 40.8 percent. However, BlackBerry has a plan to recover lost ground. "We're going back to our heritage and roots — delivering enterprise-grade, end-to-end mobile solutions," state BlackBerry in the open letter to customers. "As we refocus back to our roots, BlackBerry will target four areas: handsets, EMM solutions, cross-platform messaging, and embedded systems. And, just as important, we will continue to invest in enterprise and security related R&D during our restructuring period."
Follow Meghan on Twitter @MFoley_WSCS
Don't Miss: Yahoo's Second Buy This Week.