BlackBerry's Landslide, Netflix Scores in Canada: Market Recap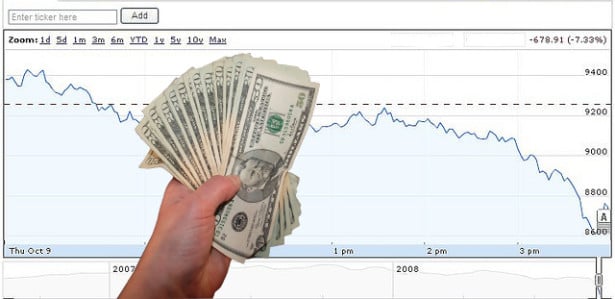 U.S. stocks fell on concern about when the Fed will start cutting stimulus, as Federal Reserve Bank of St. Louis President James Bullard said that a small tapering could start as soon as next month. The markets rallied earlier this week after the Fed unexpectedly announced it wouldn't begin tapering stimulus measures after its September policy meeting, but now the markets are confused on what direction the central bank will take.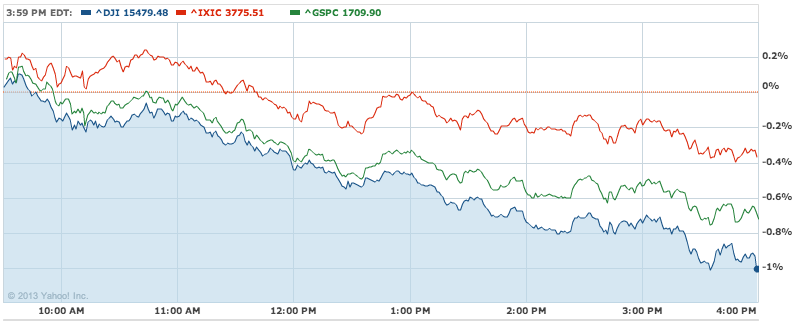 Gold: -3.32% to $1,325.10 per ounce; Oil: -0.96% to $104.84 per barrel; U.S. 10-Year: -0.58 to 2.732%.
Who Really Wins When the Housing Market Recovers?: How do we know that the housing recovery is real? One way to answer this question is to look at home prices. As measured by the Federal Housing Finance Agency's House Price Index, home prices have climbed for eight consecutive quarters and were up 7.2 percent on the year in the second quarter… (Read more)
Warren Buffet on the Fed: Great Experiment, Greatest Hedge Fund: At Georgetown University in Washington on Thursday, Berkshire Hathaway (NYSE:BRKA)(NYSE:BRKB) Chairman and CEO Warren Buffett told students that the U.S. Federal Reserve is "the greatest hedge fund in history"… (Read more.)
Would a Government Shutdown Even Stop Obamacare?: On Friday, the U.S. House of Representatives voted on and passed a measure that would provide funding for the federal government through December, but only on the condition that the Affordable Care Act (or, Obamacare) is defunded. As expected, the vote fell pretty much along party lines, with Republicans for and Democrats against… (Read more.)
Here's your cheat sheet to today's top stocks stories.
BlackBerry (NASDAQ:BBRY) shares were halted shortly before 3 p.m. EDT on Friday afternoon, down about 2.4 percent at $10.27 for the day so far. BlackBerry apparently wanted to brace the markets for the preliminary release of its fiscal second-quarter financial results, which missed analyst expectations by a long shot. Shares in BlackBerry collapsed as much as 24 percent immediately following the news, closing at $8.73… (Read more.)
Apple's (NASDAQ:AAPL) newest iPhone models became available in various markets around the world today at 8 a.m. local time, and some of the first Apple fans to get their hands on the new iPhone 5S and iPhone 5C were customers in China. According to The Wall Street Journal, approximately 40 customers were already waiting in line before 8 a.m. outside of the Apple Store in Beijing's Sanlitun district… (Read more.)
Netflix's (NASDAQ:NFLX) second-quarter results were encouraging in terms of subscriber additions domestically and around the globe. The latest news from Canada says Netflix's momentum north of the U.S. border is even more powerful. The Globe and Mail reports Netflix is steadily growing in Canada, with possibly 25 percent of all English-speaking Canadians subscribing… (Read more.)
Facebook (NASDAQ:FB) has been upgraded to Outperform from Market Perform by Cowen in the wake of a stock run that has seen shares swell some 73 percent since Facebook's second-quarter report. The analyst believes strong ROI in the News Feed is sustainable with increasing advertising demand meeting rising inventory and prices, and sees Facebook's Instagram and video as additional monetization opportunities that are not fully reflected in shares.
Microsoft (NASDAQ:MSFT) Chief Executive Officer Steven Ballmer told investors at a meeting on Thursday that his biggest regret during his time as CEO was missing out on "the new device form factor called the phone," according to a report from Reuters. During the early 2000s, while Apple was busy at work on its industry-revolutionizing iPhone, Microsoft was too focused on its Windows software to see the opportunity it was missing, Ballmer said… (Read more.)
Home Depot (NYSE:HD) spokesman Stephen Holmes told NBC that his company is transferring medical coverage for part-time workers to the new public marketplace exchanges prior to the rollout of new benefits requirements under the Affordable Care Act. The home improvement retail chain announced its decision following a similar announcement from Trader Joe's. Home Depot's modification will affect about 20,000 part-time employees who had previously chosen the limited liability medical plan offered by the company.
Follow Jacqueline on Twitter @Jacqui_WSCS
Don't Miss: 5 Popular Tech Firms Rewarding Investors With Dividends.