BlackBerry Stock Buoyed by Foxconn Deal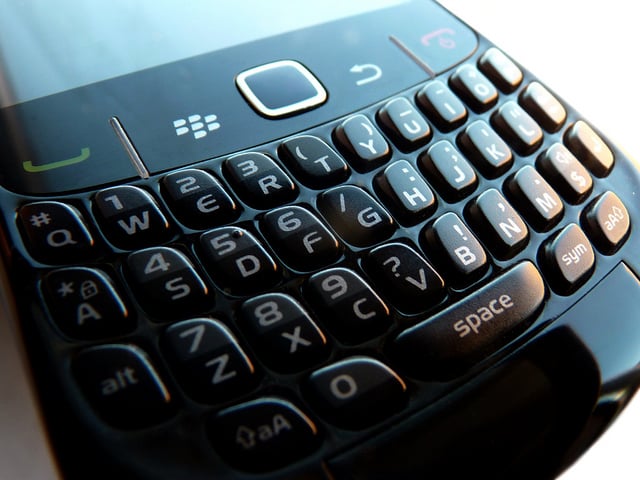 Will a new partnership help turn BlackBerry's (NASDAQ:BBRY) fortunes around? The struggling Canadian smartphone maker recently announced a five-year deal with Foxconn, a Taiwan-based manufacturer of electronics components that is perhaps best known as one of Apple's (NASDAQ:AAPL) primary suppliers.
BlackBerry made the announcement after it reported a fiscal third-quarter loss of $4.4 billion, or $8.37 per share. Excluding the writedown on unsold inventory and asset impairment charges, the loss was $354 million. Meanwhile, revenue for the quarter declined approximately 56 percent from the year-ago quarter — from $2.7 billion to $1.2 billion.
Despite the loss, BlackBerry's shares closed up over 15 percent on Friday at $7.22, due to investors' positive reaction to the Foxconn deal. Under the deal, Foxconn will jointly develop and manufacture some of BlackBerry's new devices and will take over inventory management. By handing off inventory management to Foxconn, BlackBerry will reduce its exposure to future inventory writedowns. According to BlackBerry, the partnership will initially focus on developing a low-cost smartphone for Indonesia, Mexico, and other emerging markets.
"This partnership demonstrates BlackBerry's commitment to the device market for the long-term and our determination to remain the innovation leader in secure end-to-end mobile solutions," stated BlackBerry interim CEO John S. Chen. "Partnering with Foxconn allows BlackBerry to focus on what we do best — iconic design, world-class security, software development and enterprise mobility management — while simultaneously addressing fast-growing markets leveraging Foxconn's scale and efficiency that will allow us to compete more effectively."
Chen emphasized the company's ongoing transition to profitability in an exclusive interview with CNBC on Friday. "You need to see the growth in FY 2016," noted Chen. "It cannot be just from cost and containment and so forth, although we seem to be doing pretty good there."
BlackBerry's share price has plummeted over 38 percent this year as it lost market share to smartphone rivals such as Apple and Samsung (SSNLF.PK). The company even considered selling itself  several months ago to interested buyers such as Apple, Lenovo, Microsoft (NASDAQ:MSFT), and Cisco (NASDAQ:CSCO). However, in November the company decided against the plan to sell itself and named Chen as the new interim chief executive. BlackBerry also secured $1 billion in funding by issuing convertible notes to a small group of investors, including Fairfax Financial Holdings Limited.
Here's how BlackBerry traded on Friday.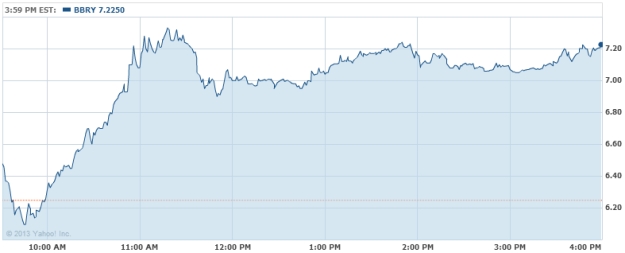 Follow Nathanael on Twitter (@ArnoldEtan_WSCS)
More from Wall St. Cheat Sheet: