BMW Gets Even More Apple-Friendly in 2014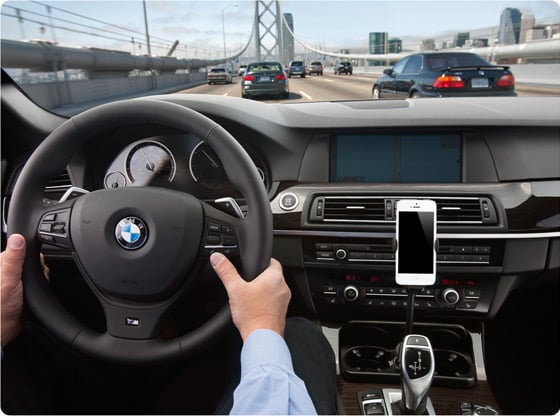 Apple (NASDAQ:AAPL) fans who are in the market for a new car will soon be gaining another option when it comes to buying an iPhone-friendly vehicle. German luxury automaker BMW recently announced that it will be incorporating Apple's Siri Eyes Free mode into all of the 2014 models of its cars reports PCMag.
BMW, along with eight other automakers, originally committed to installing Eyes Free Siri capability into their vehicles when the feature was first announced as part of the launch of iOS 6. Audi, Chrysler, Chevrolet, General Motors (NYSE:GM), Honda (NYSE:HMC), Jaguar (NYSE:TTM), Land Rover, Mercedes-Benz, and Toyota (NYSE:TM) had also pledged to integrate Eyes Free Siri into their vehicles within the next 12 months.
Is Apple now a once-in-a-decade buying opportunity? Click here to get your 24-page Ultimate Cheat Sheet to Apple's Stock now!
BMW's iDrive 4.2 update will also include compatibility with Samsung's (SSNLF.PK) S-Voice Drive mode. Users will be able to access either software by simply pressing a voice access button on the steering wheel.
Siri Eyes Free enables users to make and receive phone calls, listen to and dictate text messages, and execute various other voice-activated commands. BMW's upgraded iDrive system will now also be compatible with TuneIn Radio, Rhapsody, Audible, and Glympse applications.
"From the outset, BMW ConnectedDrive has been geared towards the mobility requirements of its users both today and into the future. The carmaker's pioneering role is exemplified by the very first in-car integration of an Apple iPod in BMW cars back in 2004, as well as the multitude of apps for in-car use introduced since 2011," stated BMW in an official press release.
BMW isn't the only German carmaker to have been bitten by the Apple bug. Volkswagen will be releasing an "iBeetle" in 2014 that will feature an iPhone docking station with a custom iOS app.
NEW! Discover a new stock idea each week for less than the cost of 1 trade. CLICK HERE for your Weekly Stock Cheat Sheets NOW!
Apple closed down 0.66 percent, or $2.92, at $438.89 today. Here's how Apple has traded over this past week.
Follow Nathanael on Twitter (@ArnoldEtan_WSCS)
Don't Miss: This New Rival Is Coming for Apple and Google.