BofA in Talks With Freddie Mac Over Mortgage Dispute and 2 More Heavily Traded Stocks to Follow
Bank of America Corp. (NYSE:BAC): Current price $14.39
According to the Wall Street Journal, which cites inside sources, the Charlotte-based Bank of America and Freddie Mac are in discussions to resolve disputes concerning more than $1.4 billion in mortgages that Freddie has said the bank should be forced to take back. Such an arrangement would mark the second agreement like that with Freddie since 2011 for the bank, which has reached two such resolutions with the Fannie Mae in that same time frame, according to the report.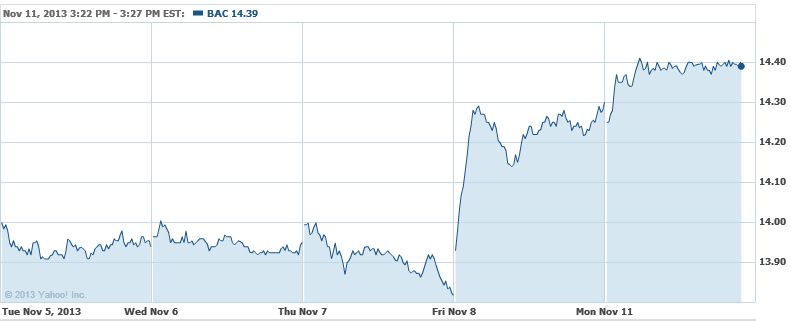 Yahoo! Inc. (NASDAQ:YHOO): Current price $33.85
Standing by the recent upgrades to certain of its web pages, Yahoo! recently updated the desktop version of Yahoo! Finance and also its iOS application. The new web interface of Yahoo Finance will permit users to track their personal portfolio more rapidly. The most important alteration implemented by Yahoo both in the new web interface and in the iOS application is personalized content. This update appears in the form of a new navigation system, redesigned charts, and an array of news and data feeds facilitating user endeavors in tracking investments, currencies, markets, and commodities.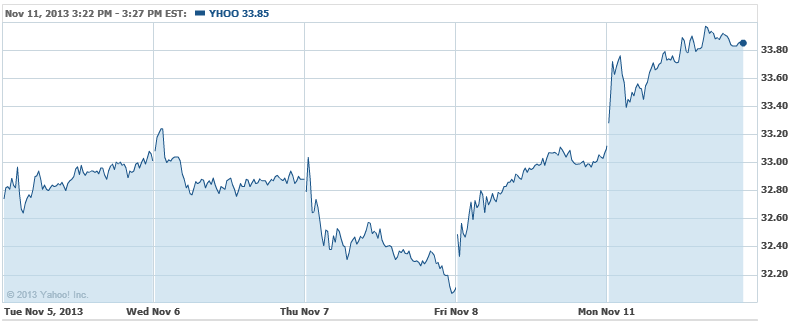 Cirrus Logic Inc. (NASDAQ:CRUS): Current price $19.37
Cirrus shares are down almost 13 percent Monday in heavy volume after a Barclays research note said that Apple's iPad Air does not contain the circuit manufacturer's audio amplifier. Looking inside the iPad Air, the tech site iFixit saw no Cirrus amplifier socket, while Chipworks discovered Cirrus' rival Maxim Integrated Products' amplifier chip instead. Analyst Blayne Curtis wrote in a research report that, "This loss is a clear negative for Cirrus for not only the near-term impact but also what this signals for future iPads and iPhones."

Don't Miss: Why Bank of America Thinks the DOJ Lawsuits Are Baseless.