BofA Sells Largest 2013 Note Tied to S&P 500 and 2 More Heavily Traded Stocks To Follow
Bank of America Corporation (NYSE:BAC): Current price $12.19
BofA has sold $108.5 million worth of five-year structured notes tied to the Standard & Poor's 500 Index, marking its largest offering since November. The securities were issued April 25, and yield a minimum of 23.4 percent per year if the benchmark stays at or above its initial value, and protect against 20 percent of losses, said a prospectus filed with the U.S. Securities and Exchange Commission. The Charlotte-based bank distributed the notes valued at 94.9 cents on the dollar, at a 2.5 percent fee. The bank has sold $1.58 billion of United States-structured notes in 2013 in 51 offerings, representing a decline of 25 percent year-over-year, and its slowest first four months since 2010, according to data that Bloomberg began compiling at that time.

BlackBerry (NASDAQ:BBRY): Current price $15.71
Reportedly, the Defense Department will grant security approvals for Samsung's Galaxy smartphones, alongside Apple's (NASDAQ:AAPL) iPhones and iPads in the near-term. The Department comprises some of the United States government's most security-aware agencies, and has represented a customer base that was dominated by BlackBerry. Observers think that an immediate mass conversion from BlackBerry devices is not probable, but the possible jilting by such an prominent buyer could lead to other enterprises to following along, which must worry BlackBerry in a big way.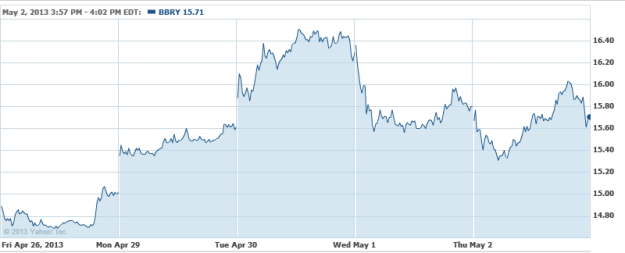 General Electric Company (NYSE:GE): Current price $22.28
New GE LED lighting is making it possible for Las Vegas Sands Corp. to move farther towards shrinking environmental impact at its top resort and meeting properties. As part of its Sands ECO 360o Green Meetings program, Las Vegas Sands has finalized an expansive energy-efficient LED lighting upgrade in its meeting spaces at The Venetian|The Palazzo Las Vegas, where halogen bulbs were replaced with over 5,700 energy smart BR30 LED lamps, lowering the resort's annual electricity use by almost 4.1 million kilowatt hours, and saving in excess of $400,000 in annual lighting costs.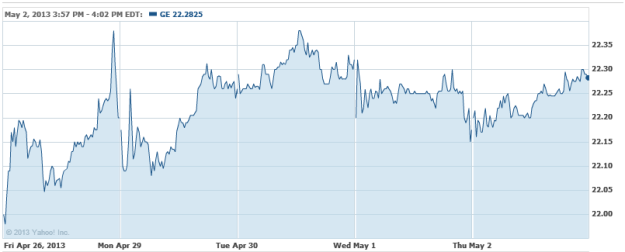 Don't Miss: Are Employers Shaking Off Tough Economic Headwinds?