Buffett Supports Dimon's Dual Roles and 2 Other Hot Stocks To Watch
JPMorgan Chase & Co. (NYSE:JPM): Current price $48.34
In an interview last week, Warren Buffett told Bloomberg Television prior to Berkshire Hathaway's (NYSE:BRKB) annual meeting in Omaha, that he believes that Jamie Dimon should continue to hold the dual role of Chairman and Chief Executive of the largest bank in the United States, in the face of shareholder pressure to separate the roles. Buffett remarked that "I'm 100 percent for Jamie. I couldn't think of a better chairman."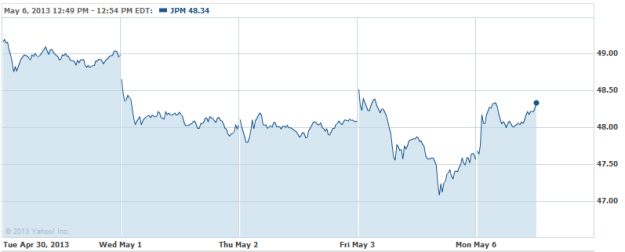 Cisco Systems (NASDAQ:CSCO): Current price $20.76
The software-defined networking startup Big Switch Networks has recruited an important executive from Cisco Systems. The new firm announced Monday that Senior Director Prashant Gandhi, who led development of its own SDN efforts, will come to Big Switch as vice president of product management, starting immediately. It's a big hire for Big Switch, as there are not many people the kind of history in traditional enterprise networking as Gandhi, who also have as much history working on endeavors to remake it with software.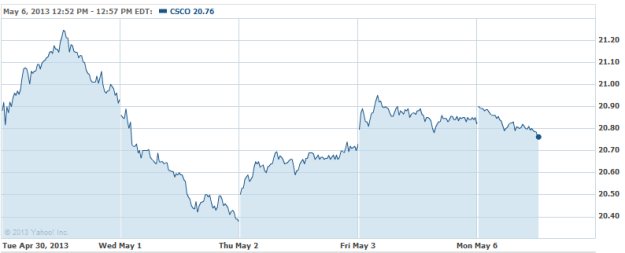 Apple (NASDAQ:AAPL): Current price $462.00
Samsung surpassed Apple as the number-one smartphone maker by unit shipments in 2011 and now the electronics major is about to pass Apple in total smartphone profits, as well. In a Monday research report, analyst Michael Walkley at Canaccord Genuity forecast that Samsung would top Apple in handset industry profits in the June quarter. Walkley wrote that the intro of Samsung's new flagship handset, the Galaxy S 4, along with weaker iPhone sales, will take Samsung to the lead position in smartphone profits globally.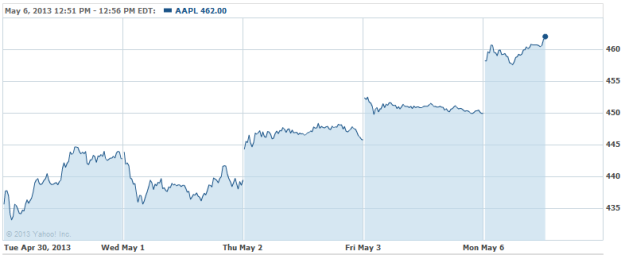 Don't Miss: Warren Buffett's Secret Successor.