Buy an iPhone 5C Today…Sort Of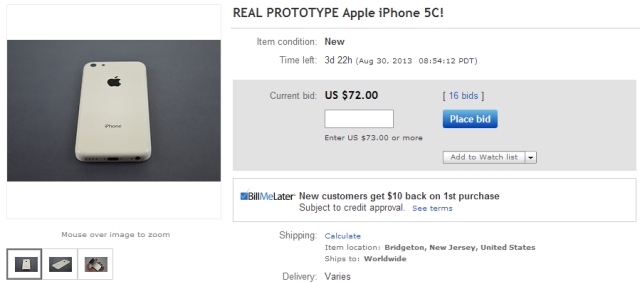 The amount of leaked images showing iPhone 5C plastic casings that have been spreading online over the past several months are too numerous to count. Although well-connected Apple (NASDAQ:AAPL) leakers such as Sonny Dickson were presumably able to obtain these parts through their supply chain contacts, it now appears that there are so many iPhone shells available that they are even being sold online, Apple Insider reports.
The "real prototype" of a white rear casing for an Apple iPhone 5C is currently for sale on eBay (NASDAQ:EBAY). The highest bid for this nonworking piece of plastic was $72 at the time of writing.
Although the seller contends in the listing that this is "the back housing of the soon-to-be released iPhone 5C," it should be noted that the component is missing standard certification markings, including one from the Federal Communications Commission. Apple Insider speculates that this may indicate that this part "may have been rejected in the manufacturing process."
However, it is also possible that this is a knockoff component made to look like a genuine Apple part. Last week, images purporting to show a black casing for an iPhone 5C emerged on PhoneArena, but Dickson later pointed out that the alleged iPhone 5C part was "nothing more than a cheap, crudely-constructed dummy phone available to purchase for a mere $13.39 from TVC-Mall.com."
The lower-cost iPhone 5C is expected to be unveiled alongside the flagship iPhone 5S according to insider sources cited by AllThingsD. If you can't wait that long to get your hands on an iPhone 5C, the iPhone 5C casing for sale on eBay may be just the item you've been looking for.
Here's how Apple has traded over the past five days.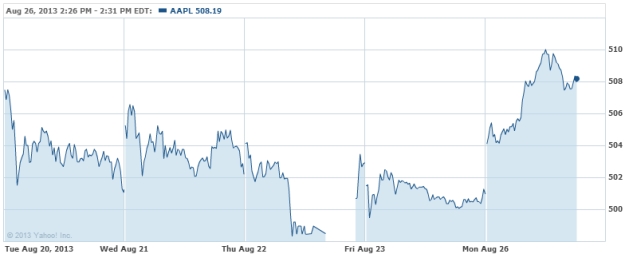 Follow Nathanael on Twitter @ArnoldEtan_WSCS
Don't Miss: Is This the iPhone 5S Processor?