CalPERS Criticizes Icahn's Apple Share Buyback Proposal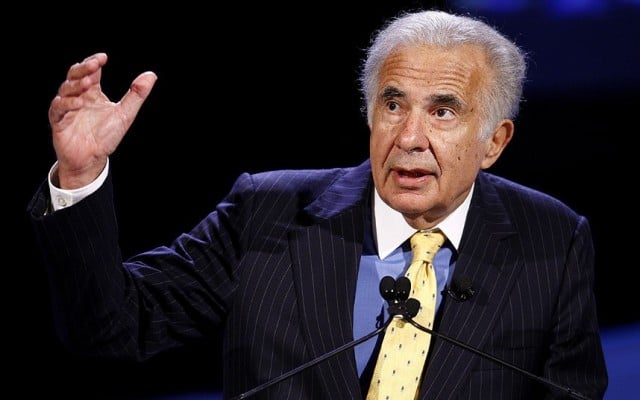 Carl Icahn has raised the ire of the California Public Employees' Retirement System (or, CalPERS) as the activist investor continued his campaign to convince Apple (NASDAQ:AAPL) to return more cash to shareholders ahead of the company's shareholder meeting scheduled for February 28. Icahn recently penned an open letter to investors that outlined the reasons why he believes Apple should "commit to completing not less than $50 billion of share repurchases during Apple's fiscal year ending September 27, 2014 (and increase the amount authorized for share repurchases under its Capital Return Program accordingly)."
Icahn also purchased another $500 million worth of Apple shares, making his total investment in the California-based company about $3.6 billion. On the other hand, CalPERS has about a $1.6 billion stake in Apple, according to CNBC. Apple has a cash hoard of over $158 billion.
CalPERS senior portfolio manager Anne Simpson strongly criticized Icahn's investment strategy and his methods for pressuring Apple into adopting his expanded share buyback proposal during a recent appearance on CNBC. "Those who'd like to consider the long-term will be talking to the company and listening to the company and having that conversation," she explained. "So tweets and Twitter (NYSE:TWTR) and Facebook (NASDAQ:FB) postings is really megaphone diplomacy."
Icahn has repeatedly tweeted updates on his share buyback discussions with Apple CEO Tim Cook as well as his own Apple share purchases. The billionaire investor has been pressuring Apple to expand its share buyback program since August of last year.
"Now, standing outside and lobbing a brick through a window really is not a sensible way to engage in the conversation," Simpson told CNBC. "We don't think Carl Icahn, who's a relatively small investor with a very short-term agenda, should be steering the board of Apple, which is a very big company, with a long-term future which many people are relying on."
"I think this is more sound and fury than sensible advice, and what really needs to happen is the long-term owners should be there backing Apple in a rational, sensible, and efficient deployment of capital," added Simpson via CNBC. "We don't want the company to be distracted by short-term noise."
Simpson's views on Icahn's proposal appear to align with the views of Apple's board and management. In a recent filing with the Securities and Exchange Commission, Apple recommended that the company's shareholders vote against Icahn's share buyback proposal. The iPhone maker also noted that it already has plans to return $100 billion to shareholders through 2015. Per Apple's preliminary proxy filing, Icahn's proposal requires an affirmative vote from the majority of shares in order to be approved.
However, Icahn fired back at Simpson in a statement released to CNBC. "It's a shame that Anne Simpson is more interested in spewing pejoratives than improving corporate governance in this country, which CalPERS is in a position to do," said Icahn.
Icahn also noted that he is not just a short-term investor raiding the company's cash hoard. He told CNBC that he has long-term positions in several companies, including stakes in Biogen (NASDAQ:BIIB) and Federal Mogul (NASDAQ:FDML). Simpson and Icahn will find out which of their views is more popular at Apple's annual shareholder meeting on February 28.
Follow Nathanael on Twitter (@ArnoldEtan_WSCS)
More From Wall St. Cheat Sheet: