Calpers to Icahn: Hands Off Apple's Cash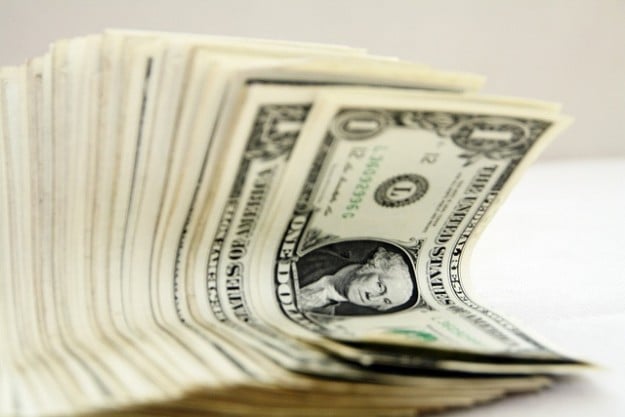 The California Public Employees' Retirement System, or Calpers, became the latest major Apple (NASDAQ:AAPL) investor to criticize Carl Icahn's efforts to expand the Cupertino-based company's share buyback program, reports Bloomberg. Calpers is the largest public pension fund in the U.S. and it held 2.4 million shares of Apple stock at the end of the third quarter of this year.
"We are uncomfortable with a raider coming into a company with a proposal to disgorge cash," Calpers' head of corporate governance Anne Simpson told Bloomberg. "Carl Icahn is a Johnny come lately."
Icahn has been pressuring Apple to expand its share buyback program since August of this year. In an open letter to CEO Tim Cook in October, Icahn argued for a $150 billion share buyback that could be funded by borrowing funds at a 3 percent interest rate. More recently the activist investor tweeted that, "Gave $AAPL notice we'll be making a precatory proposal to call for vote to increase buyback program, although not at $150 billion level." According to CNBC, Icahn's most recent proposal is for a $50 billion share buyback.
However, Calpers' Simpson noted that she was happy with the current level of Apple's share buyback program. "We like what they're doing. They have a significant program for returning money to shareholders," Simpson said via Bloomberg. "Carl Icahn is late to the party. This debate's already been had. I'm not sure what Carl Icahn's proposal adds." In April, Apple increased its share repurchase program by $60 billion — the largest share repurchase authorization in the company's history.
Simpson also criticized Icahn's penchant for tweeting about his share buyback discussions with Cook, including a tweet about having dinner with the Apple CEO. "Sending tweets from under the dinner table — this is unseemly," noted Simpson via Bloomberg.
As noted by Bloomberg, Icahn revealed in a filing earlier this month that he owns 4.7 million shares, making the total value of his current position in Apple more than $2.5 billion. Despite Icahn's efforts, Apple has publicly remained noncommittal about his proposal. "As part of our regular review process, we are once again actively seeking our shareholders' input on our program, and as we said in October, the management team and our board are engaged in an ongoing discussion about it which is thoughtful and deliberate. We will announce any changes to our current program in the first part of calendar 2014," Apple spokesperson Steve Dowling recently told TIME magazine.
Here's how Apple has traded over the past five sessions.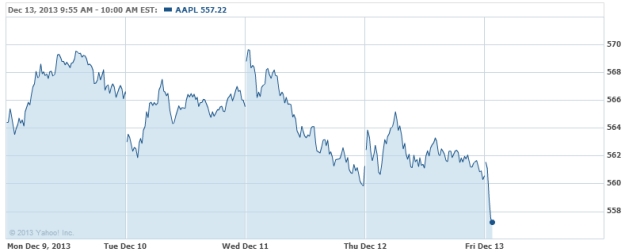 Follow Nathanael on Twitter (@ArnoldEtan_WSCS)
Don't Miss: Analyst: Apple's iPhone 5S Dominates U.S. Smartphone Sales.